Cyber Governance
Showing 11 to 15 of total 303 records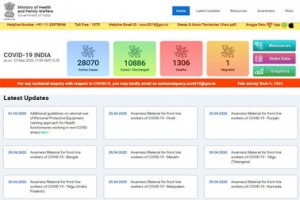 Shashi Kant Pandey, Delhi
sk[dot]pandey[at]nic[dot]in
|
May 4, 2020
Web portal of Ministry of Health and Family Welfare developed and hosted by NIC is serving as primary & official source of information on COVID-19 pandemic. It provides updated statistics, government advisories and orders apart from other insightful content on public health. The...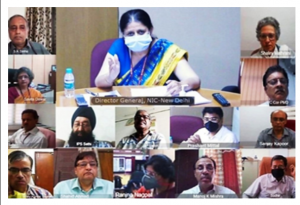 Informatics News Desk, NIC-HQ
newsdesk[dot]info[at]nic[dot]in
|
May 2, 2020
A video conference meeting of Group Heads of National Informatics Centre (NIC) was held on 1st May 2020 under the chairmanship of Dr. Neeta Verma, Director General, NIC. The VC meeting centred at its head quarters in New Delhi was facilitated using the 'Vidyo VC', the video...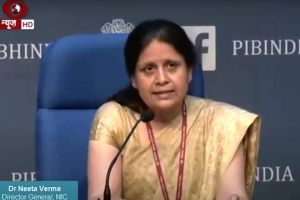 Shashi Kant Pandey, Delhi
sk[dot]pandey[at]nic[dot]in
|
Apr 2, 2020
The Government of India launched a mobile app called AarogyaSetu developed in public-private partnership to bring the people of India together in a resolute fight against COVID-19. Dr. Neeta Verma, Director General, NIC highlighted the features of Aarogya Setu Mobile App, during a press conference...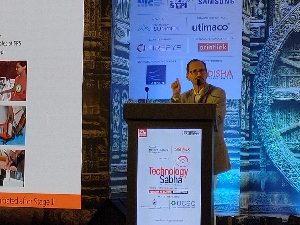 A. K. Hota, Odisha
ak[dot]hota[at]nic[dot]in
|
Mar 2, 2020
Theme: Recognizing the leaders who are raising the bar for e-governance Organized by the Indian Express (P) Ltd., Technology Sabha, has since long been India's premier eGovernance Forum; setting the pace for eGovernance seminars with leadership dialogues, actionable case studies and...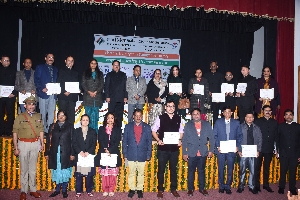 Arvind Dadhichi, Uttaranchal
ak[dot]dadhichi[at]nic[dot]in
|
Jan 31, 2020
For Best Electoral Practices and for taking special IT initiatives Officers in the state during Lok Sabha Elections 2019, officers of NIC Uttarakhand were falicitated with State Award by HE the Governor of Uttarakhand at Rajbhawan Dehradun. The award was conferred to Sh A K Dadhichi,...