Cyber Governance
Showing 11 to 15 of total 311 records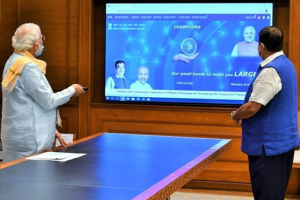 Shashi Kant Pandey, Delhi
sk[dot]pandey[at]nic[dot]in
|
Jun 1, 2020
Hon'ble Prime Minister, Shri Narendra Modi has launched the CHAMPIONS portal http://champions.gov.in on June 1, 2020 at New Delhi, in the presence of Shri Nitin Gadkari, Hon'ble Minister of Micro, Small and Medium Enterprises (MSME) Ministry and Road Transport & Highways. CHAMPIONS...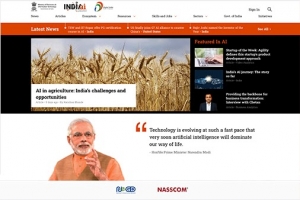 Shashi Kant Pandey, Delhi
sk[dot]pandey[at]nic[dot]in
|
May 30, 2020
Honorable Minister of Law & Justice, Communications and Electronics & Information Technology, Shri Ravi Shankar Prasad launched National AI Portal of India on 30th May 2020 at New Delhi. The portal has been jointly developed by the Ministry of Electronics and IT and the IT Industry. The...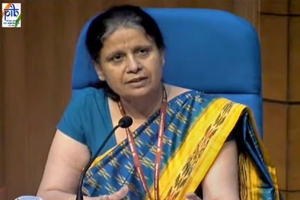 Shashi Kant Pandey, Delhi
sk[dot]pandey[at]nic[dot]in
|
May 26, 2020
Government of India's 'AarogyaSetu', the mobile App developed in public-private partnership is to bring the people of India together in a resolute fight against COVID-19. A press conference was held on the release of source code of the Android version of Aarogya Setu on 26th May...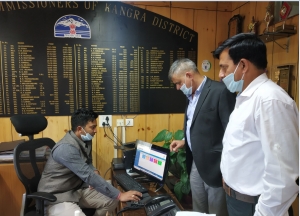 Ajay Singh Chahal, Himachal Pradesh
ajay[dot]chahal[at]nic[dot]in
|
May 16, 2020
Sh. Rakesh Prajapati, IAS Deputy Commissioner, Kangra took the initiative to utilize Service Plus framework for configuring the Covid-19 ePass Surveillance System for citizens of Kangra District. The Service Plus Team at New Delhi, in coordination with Sh. Bhupinder Pathak, Scientist-F/DIO Kangra...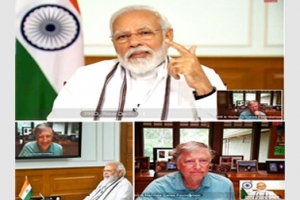 Shashi Kant Pandey, Delhi
sk[dot]pandey[at]nic[dot]in
|
May 15, 2020
Shri Narendra Modi, Hon'ble Prime Minister of India interacted with Bill & Melinda Gates Foundation co-chair, Mr. Bill Gates through NIC Video Conferencing and discussed the global response to COVID-19, and the importance of global coordination on scientific innovation and R&D...