Assam Police randomizes election Force Deployment with NIC Software
Kavita Barkakoty, Assam
asm-kavita[at]nic[dot]in
|
Mar 26, 2021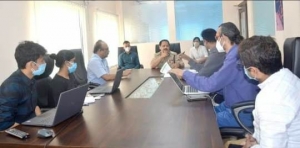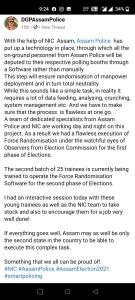 Guwahati, March 26, 2021: The Assam Police has become the second State Force in the Country to have automated and randomized its deployment for elections with the commissioning of the NIC-developed online Force Deployment Software for the first phase of the ensuing Legislative Assembly elections in Assam.
The Assam Police has randomized the duty details of its entire force of constables and homeguards in the 11,537 polling stations spread across 47 LACs and 22 Election districts in the first phase of the elections and will be doing the same for all the polling stations in the next two phases. Zonal and Sector officers are also being tagged through the software.
The Force Deployment Software, originally developed by NIC in Bihar, was extensively customized in NIC Assam for the Assam Police which has a different deployment structure. The software has been seamlessly rolled out for the entire State providing the Assam Police a much convenient and faster way of managing and deploying its manpower for elections. The Chief Elections Commissioner, Assam,  Shri Nitin Khare, IAS, led the initiative, Senior Additional CEO Shri Vinod Seshan, IAS, detailed out the requirements and prepared the ground for the project. On the part of the Assam Police,  Shri Gaurabh Upadhaya, IPS, AIGP (L&O) and Shri Deepak Kumar Kedia, Ips, IGP (L&O)  worked tirelessly under the guidance of  by Shri Bhaskar Jyoti Mahanta, IPS, DGP to bring the technical and administrative aspects of the project together. In Assam, the NIC Assam team led by Shri Rubaiyat-ul Ali, Senior Technical Director and comprising Shri Bibhujjal Bhattacharjya, Technical Director, Shri Gautam Chowdhury, Technical Director, young developers Upashana Baruah and Raktim Bikash Gogoi and NIC's district personnel, worked under the able guidance of Smt Suchitra Pyarelal, DDG & SIO, NIC Assam, to make the project a practical reality.
The initiative has won appreciation from different quarters and has been widely reported in the media. Links to some media reports are given below:
https://thenewsmill.com/assam-police-software-deploy-forces-election/
https://theshillongtimes.com/2021/03/25/assam-police-puts-in-place-software-for-force-randomisation/
https://www.time8.in/assam-police-take-digital-way-to-depute-personnel-in-polling-stations/
https://www.thenortheasttoday.com/current-affairs/states/assam/assam-polls-2021-state-police-puts-in-place-software-for-force-randomisation