News
Showing 1 to 5 of 1399 records
Shri Hara Prasad Das, Odisha
hp[dot]das[at]nic[dot]in
|
Nov 8, 2023
During State Level Programme for observance of Odisha Disasters Preparedness Day, on 29th October 2023, two portals – ODRN (Odisha Disaster Resource Network) https://odrn.nic.in and SAMARTH (Statistical Analysis, Monitoring & Assessment of Resources in Training & Handholding) https://samarth.odisha.gov.in/ were...
Shri Hara Prasad Das, Odisha
hp[dot]das[at]nic[dot]in
|
Nov 3, 2023
Hon'ble Chief Minister, Odisha, Shri Naveen Patnaik launched the Portal of Vigilance Investigation and Prosecution Management System, designed and developed by NIC, on the occasion of State Level Function for Vigilance Awareness Week on 30/10/2023. The purpose of the application is to provide...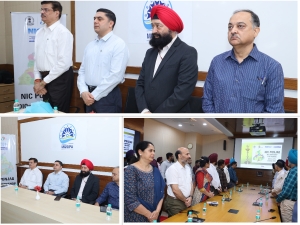 Parminder Kaur, Punjab
parminder[dot]kaur[at]nic[dot]in
|
Nov 2, 2023
In a significant stride towards professional development and knowledge enhancement, NIC Punjab successfully organized a three-day Training Programme-cum-Workshop. This transformative event took place at the esteemed MGSIPA (Mahatma Gandhi State Institute of Public Administration) in Chandigarh, commencing...
Sandeep Sood, Himachal Pradesh
sood[dot]sandeep[at]nic[dot]in
|
Oct 18, 2023
The Himachal Pradesh State Disaster Management Authority (HPSDMA) organised 13th Edition of Annual Mass Awareness Campaign on Disaster Risk Reduction - Samarth. As part of Samarth, HPSDMA organised various events at District and State level to educate common citizen about the type of disasters and...
Parminder Kaur, Punjab
parminder[dot]kaur[at]nic[dot]in
|
Sep 28, 2023
On 22nd September, 2023, in a momentous occasion for the healthcare sector, Dr. Balbir Singh, Hon'ble Minister, Medical Education & Research, Punjab inaugurated the NextGen eHospital at Guru Gobind Singh Medical College and Hospital, Faridkot. During the occasion, S. Gurdit Singh Sekhon,...