News
Showing 1 to 5 of 1362 records
Parminder Kaur, Punjab
parminder[dot]kaur[at]nic[dot]in
|
Jan 25, 2023
The Punjab government led by Chief Minister S. Bhagwant Singh Mann organised 'NRI Punjabian Nal Milni' in the month of December, 2022 at 5 venues across State of Punjab to resolve the grievances and problems of Punjabis residing abroad. Department of NRI matters, Govt of Punjab...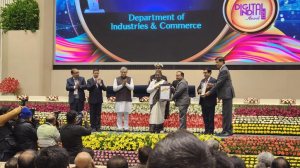 Parminder Kaur, Punjab
parminder[dot]kaur[at]nic[dot]in
|
Jan 23, 2023
Business First (Invest Punjab) Portal of Department of Industries and Commerce, Govt of Punjab has received Digital India Silver Award 2022 conferred by Hon'ble President of India, Smt. Droupadi Murmu, under Ease of Doing Business category. The portal has been developed and maintained by NIC...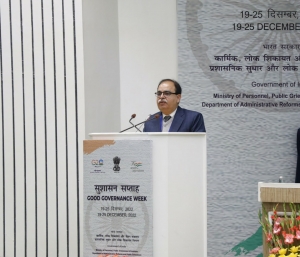 Hemendra Kumar Saini, Delhi
hemendra[dot]saini[at]nic[dot]in
|
Dec 23, 2022
Shri Rajesh Gera, Director General, NIC, spoke about the new version of eOffice and its adoption across Ministries and Departments in a Workshop on Good Governance Practices at Vigyan Bhawan on December 23, 2022. During the Session, he highlighted the best eGovernance practices for creating a paperless...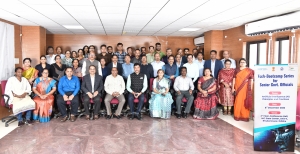 Shri Hara Prasad Das, Odisha
hp[dot]das[at]nic[dot]in
|
Dec 19, 2022
Artificial Intelligence is the simulation of human cognitive processes by machines. It automates processes & aims to ape Human Intelligence by applying Cognitive Computing to IT Systems. Towards this, the Tech-Bootcamp on Artificial Intelligence (AI) – Principles and Practices was held on...

Parminder Kaur, Punjab
parminder[dot]kaur[at]nic[dot]in
|
Dec 16, 2022
S. Harpal Singh Cheema, Hon'ble Finance, Planning and Excise & Taxation Minister Punjab launched three software namely ePension (Pension Management System) under Integrated Human Resource Management System (iHRMS), Audit Management System and eVoucher under Integrated Finance...