News
Showing 1 to 5 of 1092 records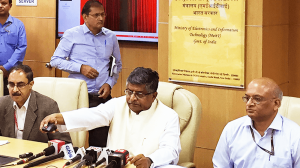 Shashi Kant Pandey, Delhi
sk[dot]pandey[at]nic[dot]in
|
Oct 9, 2019
Consolidating multiple data sources into one centralized platform, the automated real-time performance smart-board (https://meity.dashboard.nic.in/) of various programme divisions of MeitY was launched by Shri Ravi Shankar Prasad, Minister for Communications, Electronics & Information Technology...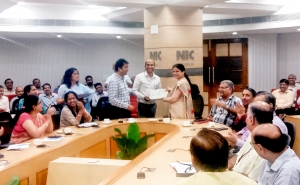 Informatics News Desk, NIC-HQ
newsdesk[dot]info[at]nic[dot]in
|
Oct 3, 2019
Dr. Neeta Verma, Director General, NIC, addressed NICians on the occasion of the successful completion of two years of Webinar Series at NIC HQ, New Delhi on 3rd October 2019. Launched by NIC on 3rd October 2017, the webinar sessions aimed at creating a platform for sharing knowledge among the peer...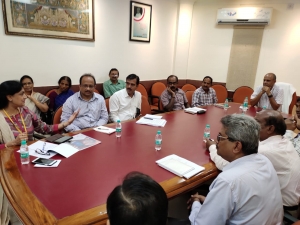 A. K. Hota, Odisha
ak[dot]hota[at]nic[dot]in
|
Sep 21, 2019
Government Instant Messaging System (GIMS) of NIC has been designed as the instant messaging platform for both the Central and State Government organizations for intra and inter organization communications. Initiating the step ahead, Finance Department, Govt. of Odisha has planned to use...
Kavita Barkakoty, Assam
asm-kavita[at]nic[dot]in
|
Sep 21, 2019
Guwahati, Assam, September 17, 2019: In preparation for the anticipated launch of the NIC eChallan mobile enforcement solution by the Assam Transport Department all over the State of Assam, a hands-on training programme on eChallan was organized for 33 District Transport Offices (DTOs) comprising...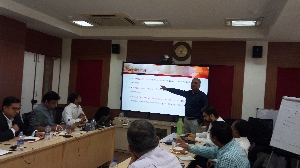 Y.V.Shreenivas Rao, Chattisgarh
yvsrao[at]nic[dot]in
|
Sep 20, 2019
A one day workshop on Integrated Pro-active EGovernance (IPeG) System was organised by Department of IT, Govt. of Chhattisagrh at Raipur on 16th sep, 2019. The objective of the workshop was to deliberate on key challenges in delivery of Government services to citizens which includes ...