Appreciation from Govt. of Assam to NIC Assam for valuable contribution in the fight against Covid 19
Kavita Barkakoty, Assam
asm-kavita[at]nic[dot]in
|
Mar 6, 2021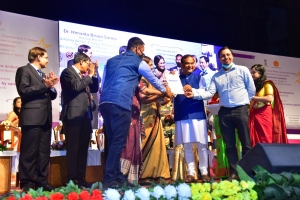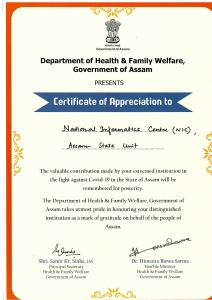 In recognition of the work done by NIC Assam in the fight against Covd-19, the Government of Assam presented the certificate of appreciation in a ceremony on 20th February 2021 at Guwahati Medical College Hospital (GMCH) Auditorium. Honourable Minister for Health & Family Welfare, Finance, PWD etc, Dr.Himanta Biswa Sarma, presented the Certificate to the NIC team of Smt.Suchitra Pyarelal,SIO Assam, Smt.Naina Begum, HoD VC Division, Sh.Rahul Deka, Scientist C and Sh. Gautam Dev Sarma, Scientist B. The Assam State Government has achieved considerable success in its consistent multi-dimensional battle against Covid-19 in the State.  NIC Assam State provided the State Government the digital armoury in terms of various digital software and hardware infrastructure. 
NIC Assam has designed and developed a number of online software applications tailor made to cater to such a unique situation and hosted them on the NIC cloud and web infrastructure. NIC Video Conferencing has been used by the State Authorities to interact audio-visually with the Central Government as well as with its district and grass root functionaries.
COVID Suraksha developed by DIO Hojai with support from NIC State Centre is a suite comprising an Android mobile application and a web-based application portal, for ensuring that Home Quarantine cases are being properly monitored by the assigned surveillance teams of health workers.
COVAAS (Corona Virus Alert Assam) mobile App, developed by DIO Goalpara, brings a host of services and information related to the pandemic on to a single platform for the convenience of the administration and citizens alike. 
Covid-19 Advisory Portal http://covid19.assam.gov.in is a more comprehensive web portal counterpart of COVAAS.
Online ePass Software, developed by NIC Assam in Service Plus has facilitated regulated movement of authorized vehicles and persons at different levels during the lockdown.
The Covid-19 Institutional Quarantine Information System is as software application developed by NIC Sonitpur District Centre for allotment of rooms/beds to people undergoing institutional quarantine in different institutional quarantine centres (IQCs), including hotels, in the State of Assam.