Awards
Showing 1 to 5 of total 151 records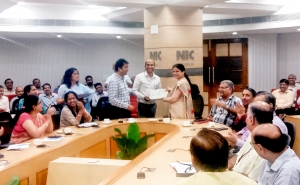 Informatics News Desk, NIC-HQ
newsdesk[dot]info[at]nic[dot]in
|
Oct 3, 2019
Dr. Neeta Verma, Director General, NIC, addressed NICians on the occasion of the successful completion of two years of Webinar Series at NIC HQ, New Delhi on 3rd October 2019. Launched by NIC on 3rd October 2017, the webinar sessions aimed at creating a platform for sharing knowledge among the peer...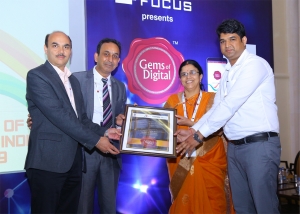 Sandeep Sood, Himachal Pradesh
sood[dot]sandeep[at]nic[dot]in
|
Sep 20, 2019
The MDM-ARMS – Mid Day Meal – Automated Reporting Management System product, of NIC, developed by Himachal Pradesh and replicated in 17 States/UT covering more than 3 Lakh schools, has been awarded the Gems of Digital India Award 2019, under the "Protecting and Assuring" category...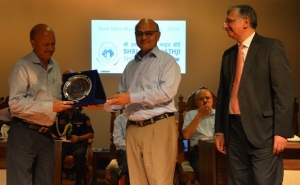 Jit Raj, Jammu and Kashmir
jit[dot]raj[at]nic[dot]in
|
Sep 4, 2019
Shri Satya Pal Malik, Honorable Governor of Jammu & Kashmir and Chairman of Shri Amarnathji Shrine Board, recorded high appreciation for the coordinated efforts made by NIC Jammu & Kashmir on 28th August 2019, for the smooth conduct of this year's Shri Amarnathji Yatra. On the occasion,...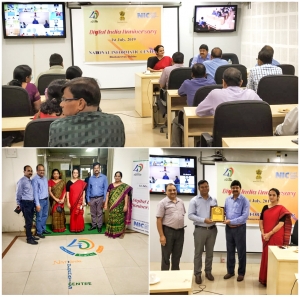 A. K. Hota, Odisha
ak[dot]hota[at]nic[dot]in
|
Jul 4, 2019
Digital India, the flagship programme of the Government of India, was launched by Shri Narendra Modi, Honorable Prime Minister of India, on 2nd July 2015. It has three essential vision areas: Country-wide digital literacy, delivering government services digitally, and development of secure and stable...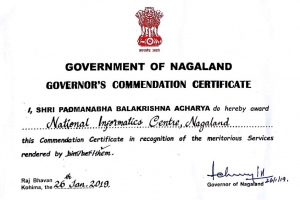 T Y Sangtam, Nagaland
tysangtam[at]nic[dot]in
|
Jun 3, 2019
NIC Nagaland was awarded with 'Governor's Commendation Certificate' by Shri Padmanabha Balakrishna Acharya, Honorable Governor of Nagaland, for its meritorious services in the field of ICT and e-Governance for good governance in the state of Nagaland. The Certificate was presented on the...