Awards
Showing 1 to 5 of total 203 records
Kavita Barkakoty, Assam
asm-kavita[at]nic[dot]in
|
Aug 17, 2023
NIC Assam won two Awards in the recent ET DigiTech Conclave and award ceremony held at Grand Hyatt, Goa from 4th to 6th August 2023. One being for the "Jaltarangini- an IoT based Automated River Water Level Monitoring System" product in the Digital Initiative in making Climate/Disaster...
Deepak Sawant, Haryana
sawant[dot]deepak[at]nic[dot]in
|
Apr 10, 2023
NIC Haryana has received two CSI-SIG awards of appreciation at 20th CSI SIG e-Governance awards, 2022. The award ceremony was held at Delhi Technical University, Delhi on 25th March 2023. The awards were conferred upon NIC Haryana for two state level projects: Online Release Orders and Billing...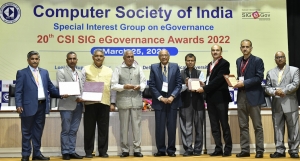 Ajay Singh Chahal, Himachal Pradesh
ajay[dot]chahal[at]nic[dot]in
|
Mar 31, 2023
NIC Himachal Projects have won five CSI eGovernance Awards which have been received by the Project Teams of NIC HP in New Delhi on 25-March-2023. These Awards were conferred during the 20th CSI eGovernance Awards ceremony held at Delhi Technological University, Delhi. The Awards were presented by...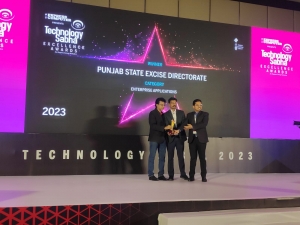 Parminder Kaur, Punjab
parminder[dot]kaur[at]nic[dot]in
|
Mar 9, 2023
Technology Sabha Excellence Awards honour Government Departments/Agencies/ Institutions that demonstrate innovative use of a particular technology or a combination of technologies for distinct benefits to the stakeholders. NIC, Punjab and Excise Department, Punjab bagged coveted Technology Sabha...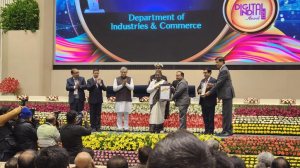 Parminder Kaur, Punjab
parminder[dot]kaur[at]nic[dot]in
|
Jan 23, 2023
Business First (Invest Punjab) Portal of Department of Industries and Commerce, Govt of Punjab has received Digital India Silver Award 2022 conferred by Hon'ble President of India, Smt. Droupadi Murmu, under Ease of Doing Business category. The portal has been developed and maintained by NIC...