Inaugurations
Showing 1 to 5 of total 310 records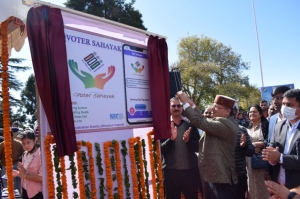 Ajay Singh Chahal, Himachal Pradesh
ajay[dot]chahal[at]nic[dot]in
|
Nov 23, 2022
Before the Assembly Elections of Himachal Pradesh, a voter festival was organized by the District Election Officer, Shimla on October 14, 2022 at the historic Ridge Ground under voter awareness in the state. During this fair, Chief Electoral Officer, Himachal Pradesh, Sh. Maneesh Garg launched the...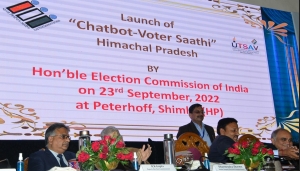 Ajay Singh Chahal, Himachal Pradesh
ajay[dot]chahal[at]nic[dot]in
|
Oct 7, 2022
Hon'ble Election Commission of India, during the Himachal Pradesh visit from 22-Sep-2022 to 24-Sep-2022, launched the Voter Saathi Chatbot on the Chief Electoral Officer, HP website. Sh. Rajiv Kumar, Chief Election Commissioner and Sh. Anup Chandra Pandey, Election Commissioner launched this...
Ajay Singh Chahal, Himachal Pradesh
ajay[dot]chahal[at]nic[dot]in
|
Sep 2, 2022
Sh. Nipun Jindal, IAS, Deputy Commissioner, Kangra launched the Management Information System for Pong Dam Oustees on 27th August 2022 at Dharamshala. Pong Dam is a large reservoir which has resulted in displacement of people from the State of Himachal Pradesh. Many people of Himachal Pradesh lost...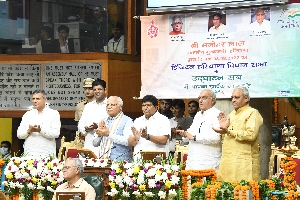 Deepak Sawant, Haryana
sawant[dot]deepak[at]nic[dot]in
|
Aug 9, 2022
Hon'ble Chief Minister Haryana, Shri Manohar Lal launched National e-Vidhan Application (NeVA) at the start of the monsoon session of Haryana Legislative Assembly on 08/08/2022. With the launch of the NeVA application, the Hon'ble members to use iPads instead of reading the session's...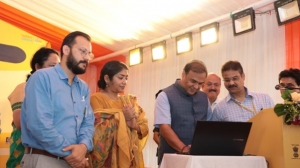 Kavita Barkakoty, Assam
asm-kavita[at]nic[dot]in
|
Jul 30, 2022
Guwahati, July 29, 2022: In a state-level function organized today by the District Administration, of Kamrup (M), Hon'ble Chief Minister of Assam Dr Himanta Biswa Sarma inaugurated 27 Kritagyata Pension Seva Kendras (PSKs) and dedicated them to the citizens of Assam. He appreciated the...