DG NIC addresses the participants of a training at LBSNAA Mussoorie
Arvind Dadhichi, Uttaranchal
ak[dot]dadhichi[at]nic[dot]in
|
Jul 23, 2021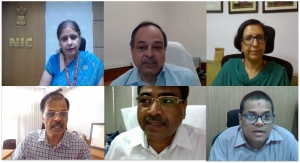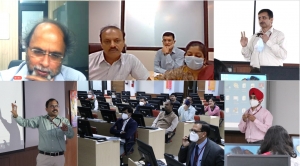 The occasion was the valedictory session of a Training of Trainers (ToT) - cum - workshop on "Data Analytics and Data Visualisation" organised by NIC Training Unit (NICTU) at the Lal Bahadur Shastri National Academy of Administration, Mussoorie from 7th-14th, July 2021. The ToT participants were the members of Academy's faculty and research centres.
Dr. Neeta Verma, DG NIC spoke about 1. Data-driven Digital Economy 2. NIC's support to Data Analytics and Data Visualisation in the Government 3. Challenges of Data Silos and Data Quality addressed by NIC through API exchange and good system design respectively and 4. Role of administrators in ensuring meaningful consumption of insights towards data driven decision-making. She praised the initiative taken by the Academy and assured NIC's continuous support.
Head NICTU (Shri Vinod Kumar Taneja) presented NICTU's pedagogy based on Academy's requirements. The participants read his brief pre-ToT write-up for them. They watched publicly available resources – Jordon Morrow's "Why everyone should be data literate", and Avik Sarkar's 'Big Data for Public Policy and Governance'. DGM NICSI (Shri Ashutosh Prasad Maurya) made them understand the many dimensions of the ToT's theme, with live examples in the Government. DDG NIC (Smt Alka Misra) enlightened them on India's 'Open Government Data(OGD) Platform' at http://data.gov.in and its offerings. MD NICSI (Shri Prashant Kumar Mittal), DDG/SIO NIC Karnataka (Shri P.V. Bhatt), DDG/SIO NIC Uttarakhand (Shri K. Narayanan) STD(Shri Sanjay Gupta), Scientist-C(Smt Pushpanjali), together, presented all possible perspectives on the available central and state databases. On all days except ToT's day1, TD NICTU (Shri Azad Singh) and PSA (Shri Amarjeet Singh Dutt) guided them to practise practical skills, during demonstration-cum-assignments-based hands-on sessions at the NICTU lab. Head NICTU made them appreciate the 'Data and Application Silos and the integration efforts using Enterprise Architecture at LBSNAA'.
The participants' feedback indicates the ToT is well-received. It matched their expectations and enhanced their skills.
At the end, the DoPT's Additional Secretary and Director LBSNAA (Shri LokRanjan), complimented the participants and NICTU. He stressed upon the relevance of such skill-development at LBSNAA as the officers trained here potentially carry such skills to almost every citizen of the country.