Technology
Showing 1 to 5 of total 227 records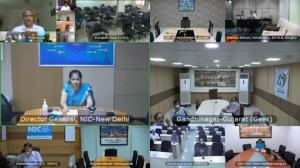 Shashi Kant Pandey, Delhi
sk[dot]pandey[at]nic[dot]in
|
Jun 12, 2020
Dr. Neeta Verma, Director General, NIC highlighted the need for user-centered design in the development of all eGov applications. She was chairing the webinar on "Designing Products with Accelerated Adoption" organized by NIC on 12th June 2020. Stressing upon the need for enhanced...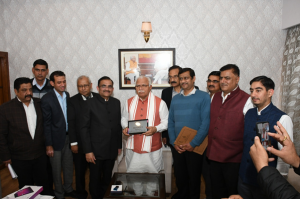 Deepak Sawant, Haryana
sawant[dot]deepak[at]nic[dot]in
|
Mar 9, 2020
The Haryana State Annual Budget 2020-2021 was presented in Haryana Vidhan Sabha on 28/02/2020 by the Hon'ble Chief Minister Haryana who is also Finance Minister and holds the charge of Finance Department. The budget was presented through Tab and It was a first paperless Budget in India....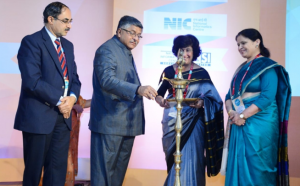 Shashi Kant Pandey, Delhi
sk[dot]pandey[at]nic[dot]in
|
Jan 23, 2020
Spearheading deliberations on the application of ICT for enhanced e-Governance, NIC hosted the second edition of Technology Conclave at Pravasi Bhartiya Kendra, Chanakyapuri, New Delhi from 21st to 22nd January 2020. TechConclave is an annual event organized by the Technical Advisory Group (TAG),...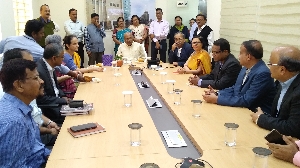 A. K. Hota, Odisha
ak[dot]hota[at]nic[dot]in
|
Jan 17, 2020
The visit of Shri Sanjay Dhotre, Hon'ble Minister of State to NIC State Centre was scheduled at 11.00 am of 16th January 2020. Dr. Siba Charan Pradhan, DDG & Head, NDC, Bhubaneswar received and accompanied him from the State Guest House, Bhubaneswar to NIC State Centre. Hon'ble...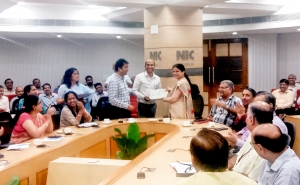 Informatics News Desk, NIC-HQ
newsdesk[dot]info[at]nic[dot]in
|
Oct 3, 2019
Dr. Neeta Verma, Director General, NIC, addressed NICians on the occasion of the successful completion of two years of Webinar Series at NIC HQ, New Delhi on 3rd October 2019. Launched by NIC on 3rd October 2017, the webinar sessions aimed at creating a platform for sharing knowledge among the peer...