Automation
Showing 1 to 5 of total 216 records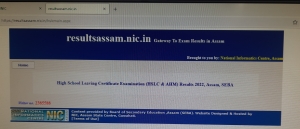 Kavita Barkakoty, Assam
asm-kavita[at]nic[dot]in
|
Jun 29, 2022
NIC Assam State Centre has been supporting the Government of Assam for last 12 years in publishing the High School Leaving Certificate (HSLC & AHM) & Higher Secondary (HS) final Examination results on the website https://resultsassam.nic.in. Examination results conducted by two Boards of Assam...
Kavita Barkakoty, Assam
asm-kavita[at]nic[dot]in
|
Mar 31, 2022
Guwahati 29 March 2022: The FSL MIS in eFSL Application of the Interoperable Criminal Justice System (ICJS) was inaugurated by Shri Bhaskar Jyoti Mahanta, IPS, Director General of Police Assam in a function held in the Conference Hall of Police HQ, Guwahati today (29-03-2022). Addl SP's...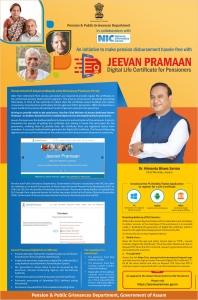 Kavita Barkakoty, Assam
asm-kavita[at]nic[dot]in
|
Nov 26, 2021
Pensioners in Assam having Aadhaar number can now generate Digital Life Certificate through Jeevan Pramaan. NIC, Assam had taken the initiative to on board Government of Assam onto the Jeevan Praman Portal developed by NIC. The matter was taken up with the P & PG Department and Government...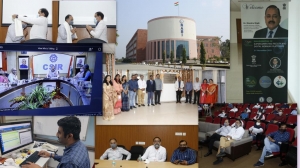 Parminder Kaur, Punjab
parminder[dot]kaur[at]nic[dot]in
|
Nov 17, 2021
In a major step towards decision making in NABI & CIAB efficacious and transparent, Hon'ble Minister of Health & Family Welfare, Science & Technology and Earth Sciences Dr. Jitendra Singh inaugurated the eOffice facility under the 'Digital India' Initiative on Tuesday...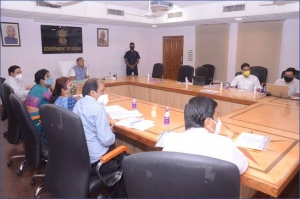 Kavita Barkakoty, Assam
asm-kavita[at]nic[dot]in
|
Jun 29, 2021
On 26th June 2021, Dr. Himanta Biswa Sarma, Hon'ble Chief Minister of Assam reviewed the activities of Pension & Public Grievances Department, Assam. During the review, Hon'ble Chief Minister also reviewed NIC developed portal "Kritagyata", an online pension sanction...