Automation
Showing 1 to 5 of total 194 records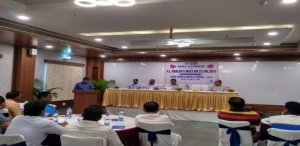 A. K. Hota, Odisha
ak[dot]hota[at]nic[dot]in
|
Jul 3, 2017
One day training cum workshop was organised by State Bank of India on 22nd June' 2017 at Jajpur Road for the retailers of Chandikhol Depot of Odisha State Beverages Corporation Limited (OSBCL), Bhubaneswar, Odisha. Officers of National Informatics Centre (NIC), Bhubaneswar, Odisha State Beverages...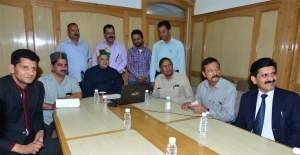 Ajay Singh Chahal, Himachal Pradesh
ajay[dot]chahal[at]nic[dot]in
|
Jun 24, 2017
Honourable Chief Minister of Himachal Pradesh, Sh. Virbhadra Singh, inaugurated the recently built modern Integrated Sugam Centre at Dharamshala, headquarters of District Kangra, from Shimla using the NIC Video Conferencing facility on 12th June 2017. Sh. Sudhir Sharma, Honourable Minister...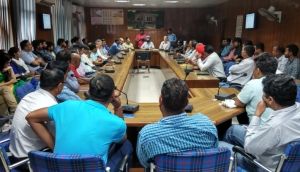 Ajay Singh Chahal, Himachal Pradesh
ajay[dot]chahal[at]nic[dot]in
|
Jun 5, 2017
Three Zonal Workshops on Works MIS software have been conducted for the Himachal Pradesh Irrigation and Public Health Department officers and officials posted at Mandi, Dharamshala and Hamirpur Zone offices. These workshops were conducted on 29th May at Mandi, 30th May at Dharamshala and on 31st May...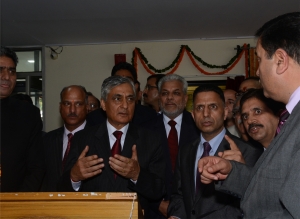 Sandeep Sood, Himachal Pradesh
sood[dot]sandeep[at]nic[dot]in
|
Aug 24, 2016
Honourable the Chief Justice of India, Honourable Mr. Justice T.S. Thakur in the august presence of Honourable Mr. Justice Mansoor Ahmad Mir, the Chief Justice and Honourable Judges of High Court of Himachal Pradesh, inaugurated the Mobile App on High Court PMIS (Personal Management Information System),...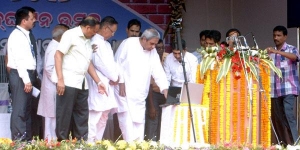 A. K. Hota, Odisha
ak[dot]hota[at]nic[dot]in
|
Mar 1, 2016
eOffice for the Collectorate, Sundargarh, Govt. of Odisha, was inaugurated at Bisra Maidan, Rourkela by the Hon'ble Chief Minister of Odisha, Shri Naveen Patnaik on dt-24.02.2016 at 11.30 AM. Others present in the occasion were – Sri Juel Oram, Union Minister for Tribal...