Launch
Showing 1 to 5 of total 203 records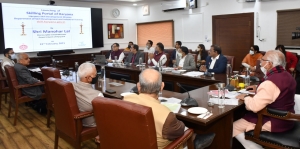 Deepak Sawant, Haryana
sawant[dot]deepak[at]nic[dot]in
|
Feb 26, 2021
Hon'ble Chief Minister Haryana, Mr. Manohar Lal launched Skilling Portal (https://skill.haryana.gov.in) of the Haryana Skill Development Mission on 22/02/2021. The Skilling portal has developed in compliance to the directives and visionary outlook of the Honourable Chief Minister,...
Y. V. Shreenivas Rao, Chattisgarh
yvsrao[at]nic[dot]in
|
Jan 27, 2021
Being in the scientific fraternity, specifically in ICT Sector, NIC with its techno- scientific professionals, state of the art techniques and approaches, has its National presence in almost each and every socio-economic area for more than 40 years. "The InfoNIC"an e-Governance Newsletter...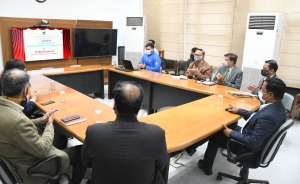 Vivek Verma, Chandigarh
vivek[dot]verma[at]nic[dot]in
|
Jan 19, 2021
Adviser to the Administrator Sh. Manoj Parida, IAS launched "Leave Module of eHRMS" on 14th January 2021 developed by NIC for all Departments of Chandigarh Administration, at UT Secretariat in the presence of senior UT officers. This new module would enable the UT Administration...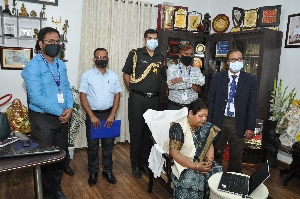 Y. V. Shreenivas Rao, Chattisgarh
yvsrao[at]nic[dot]in
|
Jan 7, 2021
On the 1st Jan' 2021 Honorable Governor, Chhattisgarh State Ms. Anusuiya Uikey has inaugurated the eSamadhan portal (http://esamadhan.cg.gov.in ) in the presence of Secretary to Governor, Legal Advisor to Hon'ble Governor, Deputy secretary and host of other senior officials. The eSamadhan...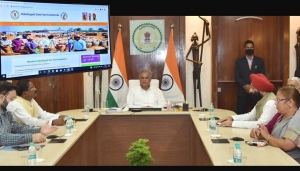 Y. V. Shreenivas Rao, Chattisgarh
yvsrao[at]nic[dot]in
|
Nov 23, 2020
Honorable Chief Minister of Chhattisgarh Shri Bhupesh Baghel inaugurated the website of Chhattisgarh State Food Commission developed by NIC Chhattisgarh on 18th November 2020. In his address on the occasion he said that the schemes related to food and nutritional security will be...