Meeting
Showing 16 to 20 of total 40 records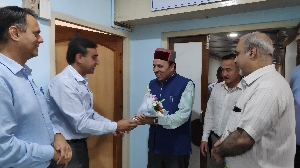 Sandeep Sood, Himachal Pradesh
sood[dot]sandeep[at]nic[dot]in
|
Jun 14, 2019
Dr. Ram Lal Markanda, Hon'ble Minister for Information Technology, Agriculture and Tribal Development, Himachal Pradesh visited NIC HP State Centre at Shimla on 13-June-2019 to discuss status of ICT activities of NIC and connectivity issues in Tribal Districts of the State.The Honorable Minister...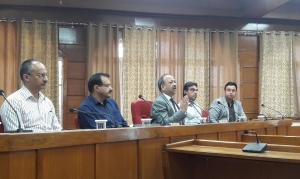 Sandeep Sood, Himachal Pradesh
sood[dot]sandeep[at]nic[dot]in
|
Apr 29, 2019
A meeting was held by Sh. B.K. Agarwal, Chief Secretary, Himachal Pradesh with all the Branch Officers, Section Officers and Personal Staff of the HP Secretariat in the Conference Hall on 27-April-2019 to discuss the challenges being faced in bringing efficiency in Secretariat Administration. Dr....
Sandeep Sood, Himachal Pradesh
sood[dot]sandeep[at]nic[dot]in
|
Feb 18, 2019
On 12th February, 2019 the delegates from 27 countries saw the Working of Paperless H.P. Vidhan Sabha in the House. The delegates met Hon'ble Chief Minister, Himachal Pradesh Sh. Jai Ram Thakur and Hon'ble Speaker H.P. Vidhan Sabha Dr. Rajiv Bindal in the main committee hall. While speaking...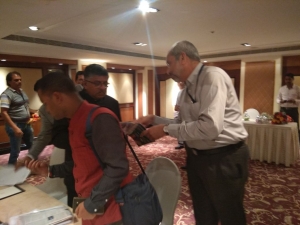 Moiz Hussain, Maharashtra
hussain[at]nic[dot]in
|
Jan 1, 2018
Hon. Union Minister of Electronics & Information Technology and Law & Justice visited Mumbai on 30.12.2017 and conducted a review of e-Governance projects being implemented by NIC Maharashtra. The status of various e-Governance projects in Maharashtra was given by SIO Maharashtra. Hon....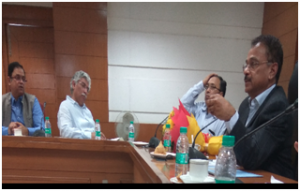 Deepak Sawant, Haryana
sawant[dot]deepak[at]nic[dot]in
|
Oct 30, 2017
End to End Computerization of TPDS Operations in Haryana has achieved incomparable milestones in implementation of the country's largest social welfare scheme, thereby, drawing attention from across the globe. While it has become a role model for the other States in the Country to follow, delegations...