Meeting
Showing 16 to 20 of total 44 records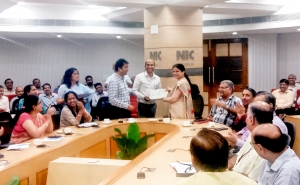 Informatics News Desk, NIC-HQ
newsdesk[dot]info[at]nic[dot]in
|
Oct 3, 2019
Dr. Neeta Verma, Director General, NIC, addressed NICians on the occasion of the successful completion of two years of Webinar Series at NIC HQ, New Delhi on 3rd October 2019. Launched by NIC on 3rd October 2017, the webinar sessions aimed at creating a platform for sharing knowledge among the peer...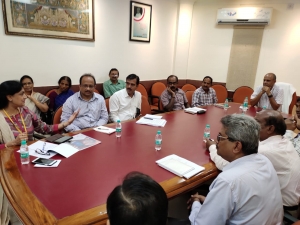 A. K. Hota, Odisha
ak[dot]hota[at]nic[dot]in
|
Sep 21, 2019
Government Instant Messaging System (GIMS) of NIC has been designed as the instant messaging platform for both the Central and State Government organizations for intra and inter organization communications. Initiating the step ahead, Finance Department, Govt. of Odisha has planned to use...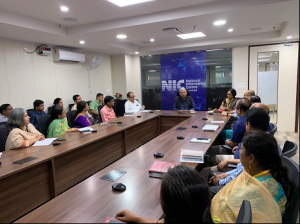 Kavita Barkakoty, Assam
asm-kavita[at]nic[dot]in
|
Aug 31, 2019
Shri D.C. Misra, Deputy Director General, NIC, made a two-day visit to Guwahati on 9th August 2019, and he, along with the State Informatics Officer & other officials of NIC Assam, met Shri Alok Kumar, Chief Secretary and Shri Rajiv Bora, Additional Chief Secretary (Finance). In the meeting with...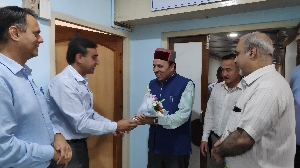 Sandeep Sood, Himachal Pradesh
sood[dot]sandeep[at]nic[dot]in
|
Jun 14, 2019
Dr. Ram Lal Markanda, Hon'ble Minister for Information Technology, Agriculture and Tribal Development, Himachal Pradesh visited NIC HP State Centre at Shimla on 13-June-2019 to discuss status of ICT activities of NIC and connectivity issues in Tribal Districts of the State.The Honorable Minister...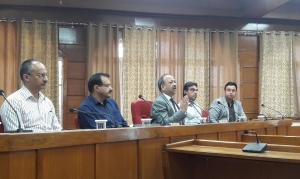 Sandeep Sood, Himachal Pradesh
sood[dot]sandeep[at]nic[dot]in
|
Apr 29, 2019
A meeting was held by Sh. B.K. Agarwal, Chief Secretary, Himachal Pradesh with all the Branch Officers, Section Officers and Personal Staff of the HP Secretariat in the Conference Hall on 27-April-2019 to discuss the challenges being faced in bringing efficiency in Secretariat Administration. Dr....