Meeting
Showing 1 to 5 of total 41 records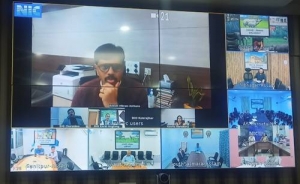 Kavita Barkakoty, Assam
asm-kavita[at]nic[dot]in
|
Dec 13, 2022
Dated : 22nd Nov 2022 At the outset of the Interactive Meeting, Assam State Co-ordinator, Shri Ashish Kr. Asthana, DDG, addressed the participants and apprised the meeting about the vision for NIC 2.0 Assam DIOs and ADIOs actively participated in the VC, under the leadership of SIO Assam,...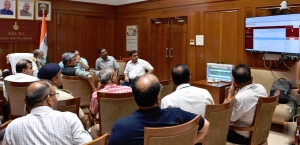 Deepak Sawant, Haryana
sawant[dot]deepak[at]nic[dot]in
|
Jul 4, 2022
A demonstration of end-to-end computerization of Arms Licence related services was made to Sh. Anil Vij, Hon'ble Home Minister and other senior officials of Home Department by Shri Alok Shrivastava, Scientist-F, NIC on 29/06/2022. The soft launch of these services will start from 1st July, 2022...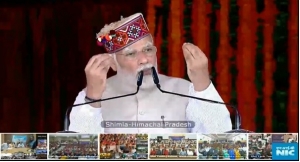 Ajay Singh Chahal, Himachal Pradesh
ajay[dot]chahal[at]nic[dot]in
|
Jun 6, 2022
Sh. Narendra Modi, Hon'ble Prime Minister of India interacted with beneficiaries of various Government Schemes virtually using NIC VC. Hon'ble Prime Minister visited Shimla on 31-May-2022 for the Garib Kalyan Sammelan. He also released more than Rs.21 thousand crores as 11th instalment...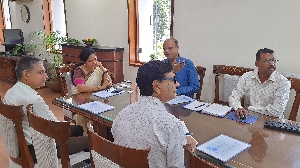 Amit Agarwal, Rajasthan
amit[dot]agarwal[at]nic[dot]in
|
May 18, 2022
The Chief Secretary, Government of Rajasthan Smt. Usha Sharma, IAS reviewed the NIC activities and initiatives in the state in presence of Principal Secretary Finance and Information Technology and Communication(IT&C), Shri Akhil Arora, IAS. ACS Home and Transport, Principal Secretary Revenue,...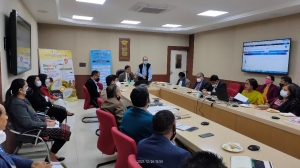 Kavita Barkakoty, Assam
asm-kavita[at]nic[dot]in
|
Dec 27, 2021
24 Dec 2021: The Government of Assam observed the Good Governance week from 20th December-25th December, 2021. On 24th December, 2021, a meeting, chaired by the Chief Secretary, Assam was held with the participation of NIC and all departments of the Assam Secretariat. A presentation was made by NIC...