Finance Dept. of Govt. of Odisha planning to use Government Instant Messaging System (GIMS) as Pilot
A. K. Hota, Odisha
ak[dot]hota[at]nic[dot]in
|
Sep 21, 2019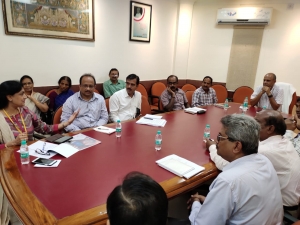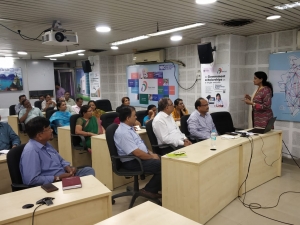 Government Instant Messaging System (GIMS) of NIC has been designed as the instant messaging platform for both the Central and State Government organizations for intra and inter organization communications.
Initiating the step ahead, Finance Department, Govt. of Odisha has planned to use GIMS in the Department on Pilot basis.  Mrs. Sapna Kapoor, Scientist-F, NIC, New Delhi visited Odisha and carried out detailed presentation to the officials on 06/09/2019 at Finance Department.  
She informed that the platform provides GIMS mobile client for instant one to one messaging, Group messaging, document and media sharing and GIMS Portal for administration and monitoring of platform.  Shri Ashok K. Meena, IAS, Principal Secretary to Govt. appreciated the effort of NIC and asked all Officials of Finance department to install GIMS and start using it. He asked NIC to form a group of all Officers of Finance department so that group interactions can also be tested. He suggested few ideas and observations including integration with HRMS which were noted by Mrs. Kapoor.
A Session on GIMS was also conducted for officials of NIC Odisha State Unit at NIC, Bhubaneswar along with Webcast of the same for the District Level Officers.
It may be noted that GIMS iOS version and E2EE for one to one messages have been released on 6th Sep 2019 and it is Compatible on iOS Version 11 or above. Also, the latest Android Version 4.4.4 or above is compatible.