DG, NIC, addresses NICians on the completion of two years of Webinar Series
Informatics News Desk, NIC-HQ
newsdesk[dot]info[at]nic[dot]in
|
Oct 3, 2019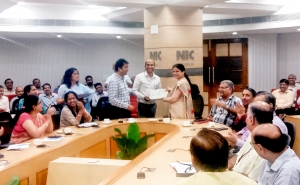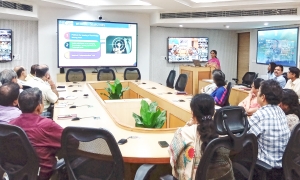 Dr. Neeta Verma, Director General, NIC, addressed NICians on the occasion of the successful completion of two years of Webinar Series at NIC HQ, New Delhi on 3rd October 2019. Launched by NIC on 3rd October 2017, the webinar sessions aimed at creating a platform for sharing knowledge among the peer group, updating individuals on the Emerging Technologies, sharing experiences & challenges faced, and improving communication skills.
In an encouraging speech, DG acknowledged the performance of NICians who showed exemplary involvement by participation, delivering and attending Webinar Sessions, and they were presented with certificates of appreciation. She stressed upon the need to make best use of this platform to share knowledge between peers, and thus to update technical knowledge. DG also advised to plan for theme-based Webinars.
On the occasion, Shri Rajesh Bahadur, HoG, Training Division, gave a detailed presentation on the achievements of Training Division in past two years. This was followed by presentation on NIC Webinars by Smt. Sameena Mukhija, Senior Technical Director & HoD, Management Development Programme, Training Division and presentation on GudApps and Vidyakosh by Shri Rajesh Pathak, Senior Technical Director & HoD, Technical Development Programme, Training Division.
NIC is an organization with a vast repository of knowledge cultivated by individuals. Sharing of this knowledge is a way to overcome many challenges and also feel motivated. Launched with the same objective, the Webinar Series has each session of half an hour duration. The speaker from any NIC location in the country connects through Video Conferencing and speaks on the chosen technical topic by sharing a power point presentation, which is broadcasted through webcast. The session is conducted from 1:30 pm to 2:00 pm every working day, thereby enabling participation of maximum number of NICians.
Beginning with one session per day, it was escalated to two parallel technical sessions every day in November 2017. NIC officials from Scientist-F to Scientist-D took keen interest and delivered lectures on varied topics ranging from Database, Big Data, Cyber Security, Open Source Technologies, Programming Language, Software Quality, Documentation to Cutting-edge Technologies like Blockchain, Artificial Intelligence, Enterprise Architecture, Deep Learning, and many more. It is noteworthy that 600 plus sessions have been delivered so far in the last two years.