ICT Initiatives
Showing 6 to 10 of total 246 records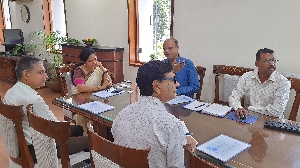 Amit Agarwal, Rajasthan
amit[dot]agarwal[at]nic[dot]in
|
May 18, 2022
The Chief Secretary, Government of Rajasthan Smt. Usha Sharma, IAS reviewed the NIC activities and initiatives in the state in presence of Principal Secretary Finance and Information Technology and Communication(IT&C), Shri Akhil Arora, IAS. ACS Home and Transport, Principal Secretary Revenue,...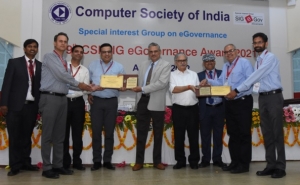 Ajay Singh Chahal, Himachal Pradesh
ajay[dot]chahal[at]nic[dot]in
|
Apr 29, 2022
The RT-PCR mobile app and associated Covid19 Sample Collection Management System, developed by NIC Himachal Pradesh for ICMR, Government of India has been awarded the Award of Excellence by CSI SIG eGovernance Awards 2021 under Project Category. The Award has been presented by Hon'ble...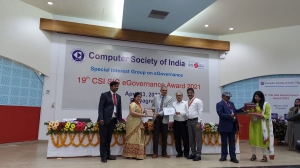 Kavita Barkakoty, Assam
asm-kavita[at]nic[dot]in
|
Apr 25, 2022
Guwahati, NIC Assam, April 24, 2022: Kritagyata -An online pension sanction and payment tracking system won 19th CSI SIG Award of Recognition. The Award was given jointly by Justice of Allahabad High Court and Director MNNIT at the Auditorium of Motilal Nehru National Institute of Technology, Prayagraj...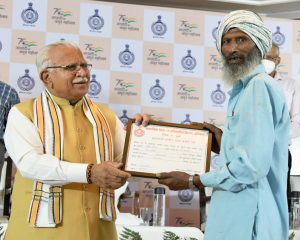 Deepak Sawant, Haryana
sawant[dot]deepak[at]nic[dot]in
|
Apr 8, 2022
Aligning with vision to ensure smooth and proactively trouble free service delivery in different Government schemes, Hon'ble Chief Minister of Haryana on 07/04/2022, distributed BPL Ration Cards, Old Age Sammaan Allowance Certificates, Caste Certificates and Ayushman Bharat Certificates integrated...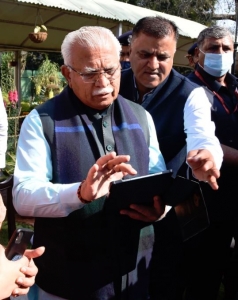 Deepak Sawant, Haryana
sawant[dot]deepak[at]nic[dot]in
|
Mar 21, 2022
Sh. Manohar Lal, Hon'ble Chief Minister of Haryana presented paperless Haryana State Annual Budget 2022-23 in Haryana Vidhan Sabha on 08/03/2022 for consecutive third year. The budget was presented through Tablet with Android based Mobile App developed by NIC Haryana. This Tablet contains...