ICT Initiatives
Showing 6 to 10 of total 211 records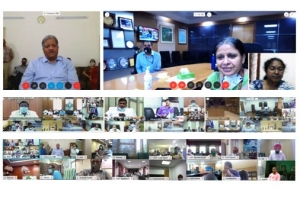 Shashi Kant Pandey, Delhi
sk[dot]pandey[at]nic[dot]in
|
Jun 15, 2020
NIC's eOffice Platform is a digital workplace solution comprising a suite of products that paves the way for an efficient and open government by streamlining workflow for both inter and intra government processes and making them paperless. The launch of eOffice for Central Board of Indirect...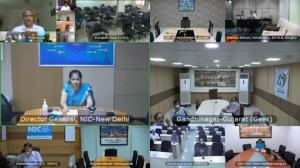 Shashi Kant Pandey, Delhi
sk[dot]pandey[at]nic[dot]in
|
Jun 12, 2020
Dr. Neeta Verma, Director General, NIC highlighted the need for user-centered design in the development of all eGov applications. She was chairing the webinar on "Designing Products with Accelerated Adoption" organized by NIC on 12th June 2020. Stressing upon the need for enhanced...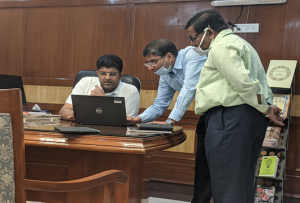 Deepak Sawant, Haryana
sawant[dot]deepak[at]nic[dot]in
|
Jun 3, 2020
The economic impact of the COVID-19 pandemic in India has been largely disruptive. MSMEs across the nation are facing financial duress due to the pandemic. The Government of India launched an ambitious 'Atmanirbhar Bharat Abhiyan' economic package to assist industries, especially...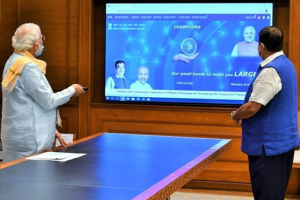 Shashi Kant Pandey, Delhi
sk[dot]pandey[at]nic[dot]in
|
Jun 1, 2020
Hon'ble Prime Minister, Shri Narendra Modi has launched the CHAMPIONS portal http://champions.gov.in on June 1, 2020 at New Delhi, in the presence of Shri Nitin Gadkari, Hon'ble Minister of Micro, Small and Medium Enterprises (MSME) Ministry and Road Transport & Highways. CHAMPIONS...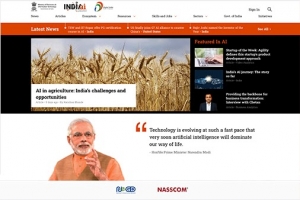 Shashi Kant Pandey, Delhi
sk[dot]pandey[at]nic[dot]in
|
May 30, 2020
Honorable Minister of Law & Justice, Communications and Electronics & Information Technology, Shri Ravi Shankar Prasad launched National AI Portal of India on 30th May 2020 at New Delhi. The portal has been jointly developed by the Ministry of Electronics and IT and the IT Industry. The...