NIC Haryana executed Online Common Entrance Test (OCET)-2022 Project for admission to B. Pharmacy
Deepak Sawant, Haryana
sawant[dot]deepak[at]nic[dot]in
|
Sep 20, 2022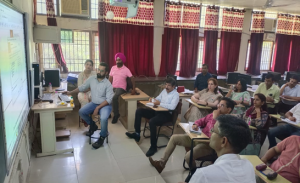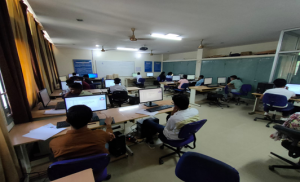 NIC Haryana executed Online  Common  Entrance Test (OCET)-2022  Project  for  admission  to  B. Pharmacy which consists of Online Registration, Online Fee Payment, Training & Demonstration to OCET centres, Admit Cards processing & publishing, Sample and actual OCET bundle preparation & publishing for downloading for each OCET centre, technical support for OCET conductance, inter-se-merit preparation and publishing. The brief details of each component are as below:
Online registration started from 27/07/2022 and continued till 24/08/2022 on counseling web site https://techadmissionshry.gov.in along with online fee payment through payment gateway.
One-day training & demonstration on installation, configuration and conductance of OCET was given to 11 OCET centres at Govt. Polytechnic, Ambala City on 08/08/2022.
Sample OCET was made available for downloading by OCET centre Heads through login and password. Technical support was extended to OCET centres on installing & configuring servers, clients and application software for further testing of sample OCET.
Admit cards were processed to allot OCET centres and shifts based on 3 preferences selected by students during online registration and published for downloading by 4,758 students to appear in OCET.
Password protected separate OCET package for OCET conductance was prepared for each OCET centre and published for downloading 2 days before actual OCET conductance.
OCET was conducted in client server environment at 11 centres, for 4 days (31/08/2022 to 03/09/2022) and 3 shifts each day. Technical support by NIC Haryana was provided for smooth configuration and execution of OCET. 3,696 students appeared in OCET.
Prepared inter-se-merits for the appeared students as per the tie-breaking criteria of department and published for downloading rank cards by appeared students.
The project was successfully executed by OCET team of NIC Haryana consisting of Shri Dharampal Saini, Scientist E, Ms. Pooja Tyagi, Scientist B and Shri Utkarsh Kohli, Programmer under the dynamic leadership of Shri Deepak Bansal, DDG & SIO, NIC, Haryana.