Demonstration of Arms Licence Services to Shri Anil Vij, Honorable Home Minister, Haryana
Deepak Sawant, Haryana
sawant[dot]deepak[at]nic[dot]in
|
Jul 4, 2022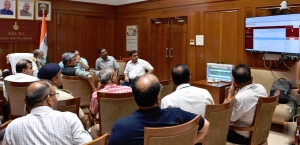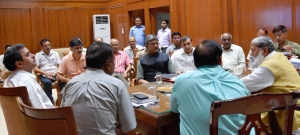 A demonstration of end-to-end computerization of Arms Licence related services was made to Sh. Anil Vij, Hon'ble Home Minister and other senior officials of Home Department by Shri Alok Shrivastava, Scientist-F, NIC on 29/06/2022. The soft launch of these services will start from 1st July, 2022 and will be formally inaugurated by Hon'ble CM Haryana shortly.
Arms License Services have been developed by NIC Haryana team on Antyodaya Saral Platform. Rohtak & Panchkula districts have been taken as pilot as both have different Licencing Authorities and different process flow.
Fourteen (14) numbers of centralized workflow based Arms licence services have been developed which can be applied on Saral Haryana Portal (https://saralharyana.gov.in). Each officer and officials involved have the facility to process the application on Saral portal including Home department, Police department & PLA branch. These services are also integrated with Parivar Pehchan Patra (PPP) and Haryana Treasury Payment Gateway System (eGRAS). Sh. Deepak Bansal, SIO and DDG, NIC apprised the audience about the benefits of the Antyodaya Saral Portal. The system is also having facility to inform the applicant about the status of application through SMS during the processing of services.
During the demonstration, Shri Rajiv Arora, Additional Chief Secretary, Home, Sh. Amarjit Singh Mann, IAS, Special Secretary, Home, Shri P.K. Agrawal, IPS, DGP, Haryana, Shri Alok Mittal, IPS, ADGP(CID), Haryana, Dr. Hanif Qureshi, IPS, Commissioner of Police, Panchkula and other senior officers were also present.