CSI eGovernance Award of Excellence for RT-PCR Mobile App, Covid19 Sample Collection Management System
Ajay Singh Chahal, Himachal Pradesh
ajay[dot]chahal[at]nic[dot]in
|
Apr 29, 2022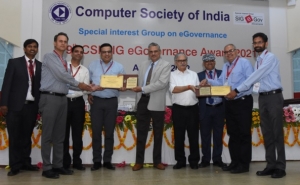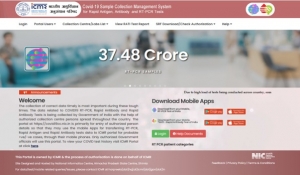 The RT-PCR mobile app and associated Covid19 Sample Collection Management System,  developed by NIC Himachal Pradesh for ICMR, Government of India has been awarded the Award of Excellence by CSI SIG eGovernance Awards 2021 under Project Category. The Award has been presented by Hon'ble Mr. Justice Ajit Singh, High Court of Judicature at Allahabad and Prof. R.S. Verma, Director, MNNIT, Allahabad to MoHFW, GoI and NIC on 23rd April 2022 at Prayagraj, Uttar Pradesh.
Sh. Vishal Chauhan, Joint Secretary, MoHFW, Sh. Sunil Kumar, DDG, NIC Hqrs, Sh. Shailender Kaushal, TD, Sh. Vinod Garg, TD, Sh. Daljeet Singh Rana, TD, from NIC Himachal Pradesh received this Award of Excellence. This is second CSI eGov award for this initiative.
The initiative comprises of two new Mobile Apps and one associated New Website for whitelisting of Mobile Application Users (Sample collectors/ Phlebotomists), designed and developed in the beginning of Covid19 pandemic in India in April 2020. This initiative was quickly rolled out in the entire country. The Covid19cc web portal is used for whitelisting of users of Apps/Portal and provides detailed analytics for District/ State/ National level Administrative/ Health officials. It also generates required raw and processed data to the laboratories, collection centres and sample collectors.
The quick development of portal and apps, onboarding of Government and Private officials and its replication in just 20 days across country is an exemplary proof of its acceptance by all stakeholders. The portal is single sign on enabled and both the mobile apps are available on Android and iOS platforms. The RT-PCR app is available on Window platform too.
These mobile apps and web portal have been developed by NIC Himachal Pradesh for monitoring the RT-PCR tests which are used for multiple purposes by different agencies. Many NIC HP officers contributed in the development of this software and include Sh. Lalit Kapoor, ASIO, Sh. Sandeep Sood, STD, Sh. Sanjay Kumar, STD, Sh. Sanjay Sharma, STD, Sh. Vijay Kumar Gupta, STD, Sh. Sanjay Kumar, TD, Sh. Ashish Sharma, Scientist-C, Sh. Mangal Singh, Scientist-C, Sh. Sarvjeet Kumar, Scientist-B, supported by Senior Developers. The software has been implemented in 31 States and UTs of India and more than 37 Crore samples have been collected through this system.