Chief Secretary, Government of Rajasthan Reviewed NIC Activities in the State
Amit Agarwal, Rajasthan
amit[dot]agarwal[at]nic[dot]in
|
May 18, 2022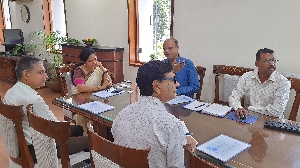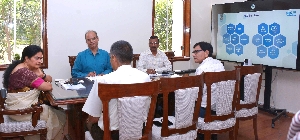 The Chief Secretary, Government of Rajasthan Smt. Usha Sharma, IAS reviewed the NIC activities and initiatives in the state in presence of Principal Secretary Finance and Information Technology and Communication(IT&C), Shri Akhil Arora, IAS. ACS Home and Transport, Principal Secretary Revenue, Secretary Food and Civil Supplies and other Senior Officers also participated in the meeting through video conferencing. SIO Rajasthan, Shri Jitendra Kumar Verma made a detailed presentation on activities and projects of NIC. Shri I.D. Variyani, Senior Technical Director NIC and Shri Amit Agarwal, Senior Technical Director, NIC were also present in the meeting. All senior officials of NIC attended the meeting through Video Conferencing.

Chief Secretary has shown the keen interest on each projects developed by NIC and asked the present status, progress and new initiatives of each and every project. She appreciated the IT initiatives of NIC and said she is hopeful to see new applications from NIC in the coming years. She said these IT projects have saved huge manpower resources, papers and useful for the development in the state.  The Principal Secretary Finance and IT&C said that NIC is working in close coordination with the State IT team and in the healthy environment. Many milestones have been achieved in Information technology due to the projects developed by NIC team. He wanted to initiate districts involvement in IT activities with local administration. He also desired that NIC should revamp their old projects and use the new technology. SIO informed that NIC is moving to new technology in IFMS 3.0 and other projects. Many applications have been integrated with Jan Aadhaar and data are being pushed to the Jan Aadhaar portal on regular basis.

The Chief Secretary appreciated the work done by NIC in the e-governance sector. She has shown the interest in the detailed projects presentation of various projects.