Hon'ble Prime Minister dedicates 75 Digital Bank Units to Nation
Hemendra Kumar Saini, Delhi
hemendra[dot]saini[at]nic[dot]in
|
Nov 16, 2022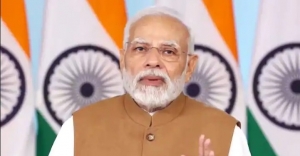 The Hon'ble Prime Minister, Shri Narendra Modi, dedicated 75 Digital Banking Units (DBU) across 75 districts to the nation via NIC video conferencing on November 16, 2022. He stated that the Digital Banking Units (DBU) will increase financial inclusion and enhance the banking experience for citizens. He also said that the DBU is a significant step in the direction of better ease of living for common citizens, and the government aims to provide maximum services with minimum infrastructure, all of which will be done without involving any paperwork. It will also simplify the banking procedure while providing a robust and secure banking system.
Earlier, during the Union budget speech for 2022–23, the Hon'ble Minister of Finance, Smt. Nirmala Sitharaman, announced the setting up of the 75 DBUs in 75 districts to commemorate the country's 75 years of independence.
A DBU is a specialised fixed-point hub, set up by any scheduled commercial bank, housing a certain minimum digital infrastructure for delivering digital banking products and services as well as servicing existing financial products and services digitally in self-service mode at any time. DBUs are set up to ensure the benefits of digital banking reach every nook and corner of the country. It will eventually cover all the States and Union territories.
DBUs will enable those who do not have ICT infrastructure to access banking services digitally and are not tech savvy to adopt digital banking. Services being offered through DBU are the opening of a savings account, checking the account balance, printing the passbook, transferring the funds, investing in fixed deposits, applications for loans, stop-payment instructions for cheques issued, applications for credit or debit cards, viewing a statement of account, paying taxes and bills, making nominations, etc. DBUs will also facilitate onboarding to Government credit link schemes through the Jan Samarth portal and end-to-end digital processing of small-ticket MSME and retail loans.