ICT Initiatives
Showing 11 to 15 of total 173 records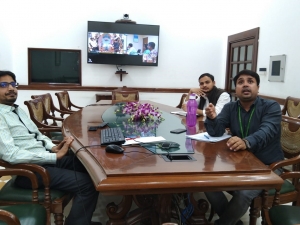 Dr. Shubhag Chand, Delhi
shubhag[at]nic[dot]in
|
Dec 17, 2018
eSamikSha web portal developed and managed by Cabinet Secretariat Informatics Division and adopted by various Ministries/Departments/States/Districts/PSU etc. for their issue resolution and compliance on 20th November 2018 in the Training programme organized by Ordnance Factories Institute of Learning...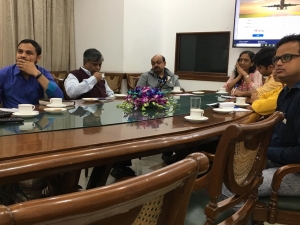 Dr. Shubhag Chand, Delhi
shubhag[at]nic[dot]in
|
Dec 6, 2018
eSamikSha, an online Monitoring and Compliance Mechanism has been developed by Cabinet Secretariat Informatics Division, to fast track the compliance of pending action points, proposal, targets, etc. of Various Ministry/Department/Organization/Agency of Govt. of India and Government of States and...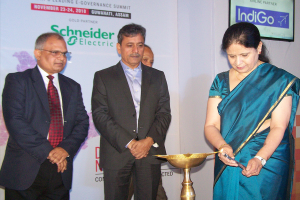 Mohan Das Viswam, NIC-HQ
mohandas[at]nic[dot]in
|
Nov 23, 2018
Smt Neeta Verma, Director General, National Informatics Centre delivered the keynote address at the Northeast Technology Sabha organized by the Indian Express Group at the Radisson Blu hotel in Guwahati today. In her address the Director General traced the evolution of ICT development and application...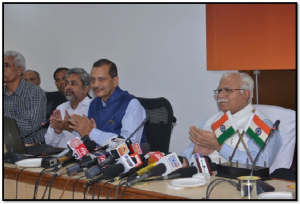 Deepak Sawant, Haryana
sawant[dot]deepak[at]nic[dot]in
|
Oct 8, 2018
Hon'ble Chief Minister of Haryana, Shri Manohar Lal, inaugurated the web portal of Haryana Real Estate Regulatory Authorities(Panchkula & Gurugram) today on 4th October 2018 at Chandigarh. In his speech the Chief Minister appreciated the role of NIC-Haryana in designing, developing and...

A. K. Hota, Odisha
ak[dot]hota[at]nic[dot]in
|
Aug 2, 2018
On 28th May 2018, Shri Chandra Sarathi Behera, Honourable Minister of Electronics & IT, Govt. of Odisha launched the Secure, Scalable and Sugamya bilingual district portals of Odisha in the august presence of Shri Ravi Shankar Prasad, Hon'ble Union Minister, Electronics & IT, Law &...