Training Programme on Mobile App Development organized by NIC Assam and NIC New Delhi at Assam Administrative Staff College(AASC), Guwahati
Kavita Barkakoty, Assam
asm-kavita[at]nic[dot]in
|
Nov 16, 2022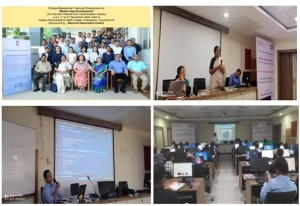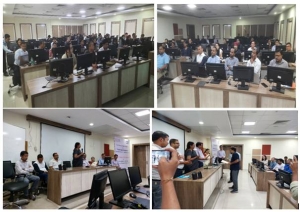 A five days Residential Training Programme on Mobile App Development was organized by Training Division, NIC HQ, in association with NIC Assam State Centre for the NIC officers of North Eastern States including Sikkim from 1st November to 5th November, 2022 at Assam Administrative Staff College (AASC), Khanapara, Guwahati.   
A Mobile Development Expert group had been formed in NIC Assam with team drawn from the NIC District Centres and NIC State Unit in 2021. The expert group had developed their core expertise in various stages of mobile application development and had been mentoring Mobile app development for NIC Assam.   
The programme began with the introductory session which was welcomed by Smt. Vijaylakshmi Barua, Director of Training, AASC, Smt. Hiranmayee Goswami, Senior Technical Director NIC Assam & Course Coordinator, Shri Neeraj Goel, Senior Technical Director &  HoD, Training Division, Shri Sandip Paul, Technical Director from  NIC HQ, New Delhi, Faculty experts from NIC Himachal Pradesh and NIC Kerala. During the inaugural address, Shri Neeraj Goel, HoD expressed his gratitude to both NIC Assam and Assam Administrative Staff College for arranging the residential training programme at Guwahati. He gave a brief overview of the initiatives taken by NIC HQ Training Division in  recent times.   
Dr. Suchitra Pyarelal, DDG and State Informatics Officer, NIC Assam  addressed the participants on day 3 and shared her views on developing secure and useful mobile app using latest technologies for the government. Shri Sandip Paul, Technical Director, Training Division, NIC HQ, New Delhi interacted with the participants through Bharat VC on Day 4 and gathered the feedback.   All faculty for the class room sessions were from NIC Assam State Centre and NIC Assam District Centers and Four(4) online classes were taken by officers from NIC HQ, New Delhi, NIC Kerala and NIC Himachal Pradesh.  
Thirty officers from Assam, Meghalaya, Mizoram, Manipur, Nagaland, Arunachal Pradesh, Tripura & Sikkim attended the training programme. The training programme was more practical oriented where participants were seen to be satisfied having practice in a well-equipped lab and one-to-one interaction with experienced faculties who shared their knowledge on Mobile App Development. Participants felt more comfortable with their faculty being their colleagues and very positive outcome from the training is expected.  
During the training, Mobile Apps which are already implemented by User Departments and developed by NIC Assam like Matsyabaibhav, Sikshak Bota, LM App, Drugs Free, Prashikshan and Jaltarangini were demonstrated with very useful interactions on various technical aspects of these App which developed confidence of the participants to come up with more Apps relevant to their State.