Digital ITI MIS launched by Assam Skill Minister
Kavita Barkakoty, Assam
asm-kavita[at]nic[dot]in
|
Sep 20, 2023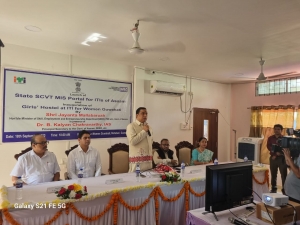 Guwahati, September 18, 2023: The Hon'ble Minister for Skill Employment and Entrepreneur Development (SEED) Shri Jayanta Mallabaruah today launched the NIC-developed  MIS module for the Digital ITI initiative. This comprehensive initiative of the Assam Government, which envisages bringing all processes required for running of the 133 Indian Technical Institutes (ITIs) of Assam on to a digital platform,  is being done in collaboration with NIC Assam.
In his speech the Minister said that the launch of the MIS fulfilled a long-pending requirement to enable the administration to monitor all processes of the ITIs and analyze data to further improve the functioning of the institutes to make them more effective. He also expressed the desire to track the employability of students passing out of ITIs to gauge their effectiveness. He commented on integrating Digital ITI with Digital Locker to provide a smoother registration and admission experience.
The MIS has been developed under the aegis of SIO Assam Smt Kabita Roy Das by a team led by HoD Shri Rubaiyat-ul Ali comprising Shri Subir Kumar Nandi, Shri Bimolendu Sarkar, Shri Asish Jain and Smt Doly Barkakati.