Digitization
Showing 16 to 20 of total 187 records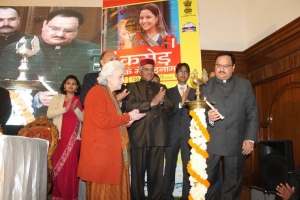 Ajay Singh Chahal, Himachal Pradesh
ajay[dot]chahal[at]nic[dot]in
|
Mar 21, 2017
The Digidhan Mela to sensitize and train the citizens on using cashless modes for making various types of payments was held on 19th March 2017 at Shimla. Honourable Union Health Minister, Sh. J.P. Nadda was the chief guest. Smt. Vidya Stoke, Minister for Information Technology, Himachal Pradesh...
Ajay Singh Chahal, Himachal Pradesh
ajay[dot]chahal[at]nic[dot]in
|
Feb 3, 2017
Shri Ravi Shankar Prasad, Honorable Union Minister for Information Technology, Law and Justice awarded the appreciation certificate and memento to Sh. Rakesh Kumar, District Informatics Officer, Bilaspur, NIC Himachal Pradesh, during the National Grassroot Informatics meet, on 19th January 2017 in...
Deepak Sawant, Haryana
sawant[dot]deepak[at]nic[dot]in
|
Jan 27, 2017
Mr Rahul Jain , Scientist-D and State Health Coordinator, Haryana presented a paper and delivered a lecture on "ICT Facilitation in Procurement & Supply Chain" in International Training programme on procurement Management in health care sector (16-20 January 2017)...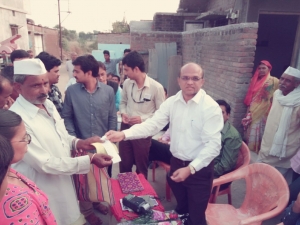 Moiz Hussain, Maharashtra
hussain[at]nic[dot]in
|
Jan 18, 2017
e-PDS system is successfully implemented at Amravati Disitrict. Point of Sale device based sale of food grains under Public Distribution system is launched at Teosa Taluqa of Amravati District of Maharashtra on 17th Jan. 2017.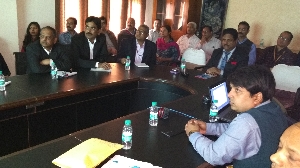 Dr. Shubhag Chand, Delhi
shubhag[at]nic[dot]in
|
Dec 5, 2016
eSamikSha, an online Monitoring and Compliance Mechanism has been developed by Cabinet Secretariat Informatics Division, to fast track the compliance of pending action points, proposal, targets, etc. of Various Ministry/Department/Organization/Agency of Govt. of India and Government of States and...