Training program on DFCCIL -eSamikSha (Dedicated Freight Corridor Corporation of India), on 12th March, 2019
Dr. Shubhag Chand, Delhi
shubhag[at]nic[dot]in
|
Mar 13, 2019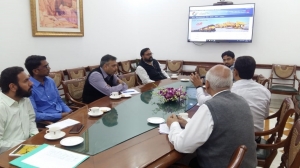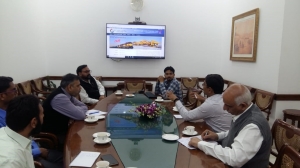 eSamikSha application is an online Monitoring and Compliance Mechanism, developed by NIC Cabinet Secretariat Informatics Division, to fast track the compliance of pending action points, proposal, targets, etc. of various Ministry/Department/Organization/ Agency of Govt. of India, Government of States and UTs. The portal has been designed in such a way that it will enhance efficiency, bring transparency, reduce the need of protracted correspondence and improve the communication between Government to Government (G2G).
With eSamikSha's great success, Shri Anurag Sachan, Managing Director, DFCCIL, has expressed his desire to replicate the eSamikSha as DFFCIL-eSamikSha for his organization. The application will assist in monitor the compliance status of the different projects, targets, meetings chaired by the Chairman, Railway Board & Managing Director (DFCCIL), etc.
 In this context, capacity building training program was held in Conference Room, Cabinet Secretariat, Rashtrapati Bhawan, New Delhi on March 12, 2019 for DFCCIL officials.
 Shri Akash Kumar Gupta, Cabinet Secretariat Informatics Scientist ' C', began the training session with a description of DFCCIL-eSamikSha followed by an audio / visual presentation and workflow. Training was attended by officials from the Dedicated Freight Corridor Corporation of India Limited. All DFCCIL-eSamikSha modules and various user roles were explained in detail during the training session.
 The session has been ended with the question & answer session and vote of thanks.