Hon'ble President launches web portal of National Youth Parliament Scheme
Informatics News Desk, NIC-HQ
newsdesk[dot]info[at]nic[dot]in
|
Nov 26, 2019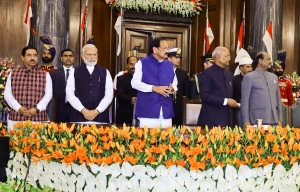 Shri Ram Nath Kovind, Hon'ble President of India launched the National Youth Parliament Scheme (NYPS)  web portal at the Central hall of the Parliament of India on the Constitution Day celebration on 26th  November 2019, in the august presence of Shri M Venkaiah Naidu, Hon'ble Vice President of India, Shri Narendra Modi, Hon'ble Prime Minister of India, Shri Om Birla, Hon'ble Speaker, Lok Sabha and Shri Pralhad Joshi, Hon'ble Minister of Parliamentary Affairs.
To give shape to the Hon'ble Prime Minister's vision of organizing youth parliaments in all parts of the country, the Ministry of Parliamentary Affairs has devised a web portal based  National Youth  Parliament Scheme, with the aim of spreading spirit of democracy to every nook and corner of the country. In order to develop democratic ethos amongst the younger generation, the Ministry of Parliamentary Affairs has been implementing Youth Parliament programme since 1966 in schools under the Directorate of Education, Government of NCT of Delhi and NDMC, Kendriya Vidyalayas, Jawahar Navodaya Vidyalayas and Universities/ Colleges. So far, around 8000 educational institutions and more than 4,00,000 students have been covered under the Youth Parliament programme of the Ministry.
To increase the coverage of the Youth Parliament programme to all recognized schools/ colleges all over India, the Ministry has developed a web portal on National Youth Parliament Scheme in coordination with the National Informatics Centre (NIC). It aims to bring all the educational institutions of the country under the ambit of the National Youth Parliament Scheme.
(Contributed by Shri Narinder Singh Arneja, DDG, NIC)