Digitization
Showing 21 to 25 of total 190 records
Deepak Sawant, Haryana
sawant[dot]deepak[at]nic[dot]in
|
Jan 27, 2017
Mr Rahul Jain , Scientist-D and State Health Coordinator, Haryana presented a paper and delivered a lecture on "ICT Facilitation in Procurement & Supply Chain" in International Training programme on procurement Management in health care sector (16-20 January 2017)...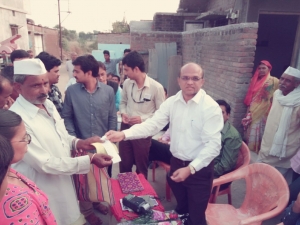 Moiz Hussain, Maharashtra
hussain[at]nic[dot]in
|
Jan 18, 2017
e-PDS system is successfully implemented at Amravati Disitrict. Point of Sale device based sale of food grains under Public Distribution system is launched at Teosa Taluqa of Amravati District of Maharashtra on 17th Jan. 2017.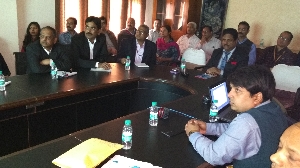 Dr. Shubhag Chand, Delhi
shubhag[at]nic[dot]in
|
Dec 5, 2016
eSamikSha, an online Monitoring and Compliance Mechanism has been developed by Cabinet Secretariat Informatics Division, to fast track the compliance of pending action points, proposal, targets, etc. of Various Ministry/Department/Organization/Agency of Govt. of India and Government of States and...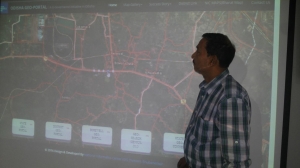 A. K. Hota, Odisha
ak[dot]hota[at]nic[dot]in
|
Nov 28, 2016
Odisha Geo-Portal (https:// gisodisha.nic.in) was designed and developed by Shri Bijaya Kumar Samal, Scientist-D, GIS Division, NIC, Odisha State Unit, Bhubaneswar. It was inaugurated by Shri P. K. Pramanik, DDG & SIO, Odisha on 19th November, 2016 in the Conference Hall of NIC. In this...
Dr. Shubhag Chand, Delhi
shubhag[at]nic[dot]in
|
Nov 25, 2016
"eSuvidha, an On-line Project Management System, tracks the projects involving investment above 1000 crore. It enhances the efficiency, bring transparency and improve the communication between industries to Government and State to Centre or vice versa. It automates the entire tracking of stalled...