Technology
Showing 11 to 15 of total 142 records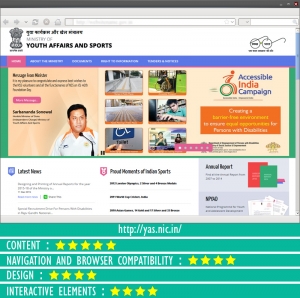 Lokesh Joshi,
lokesh[at]nic[dot]in
|
Feb 11, 2016
The Ministry of Youth Affairs & Sports was initially set up as the Department of Sports in 1982 at the time of organization of the IX Asian Games in New Delhi. Its name was changed to the Department of Youth affairs & sports during celebration of the International Youth Year, 1985. It became...
Dr. Shubhag Chand, Delhi
shubhag[at]nic[dot]in
|
May 13, 2015
eSamikSha played a seminal role in India's gigantic rescue and relief mission in Nepal and India after the April 25 earthquake, which has been a big success by all accounts. The rescue and relief operation in the aftermath of the devastating earthquake was incessantly monitored at the highest...
Dr. Shubhag Chand, Delhi
shubhag[at]nic[dot]in
|
Apr 24, 2015
Mr. Alok Vardhan Chaturvedi, Joint Secretary, Cabinet Secretariat, Government of India presented the eSamikSha web portal developed and managed by Cabinet Secretariat Informatics Division and adopted by various Ministries/Departments of Government of India for their issue resolution and compliance...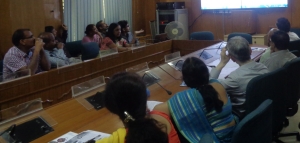 Dr. Shubhag Chand, Delhi
shubhag[at]nic[dot]in
|
Apr 22, 2015
eSamikSha, an online Monitoring and Compliance Mechanism has been developed by Cabinet Secretariat Informatics Division, to fast track the compliance of pending action points, proposal, targets, etc. of Various Ministry/Department/Organization/Agency of Govt. of India and Government...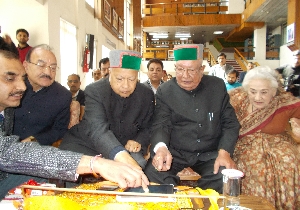 Ajay Singh Chahal, Himachal Pradesh
ajay[dot]chahal[at]nic[dot]in
|
Apr 2, 2015
Sh. Virbhadra Singh, Honourable Chief Minister of Himachal Pradesh launched the eVidhan Mobile App, Part-I, for the Members of the HP Vidhan Sabha on 30th March 2015 at Shimla in the presence of Sh. Brij Bihari Lal Butail, Honourable Speaker of HP Legislative Assembly. A number of Ministers and Members...