NIC hosts second edition of Technology Conclave in New Delhi
Shashi Kant Pandey, Delhi
sk[dot]pandey[at]nic[dot]in
|
Jan 23, 2020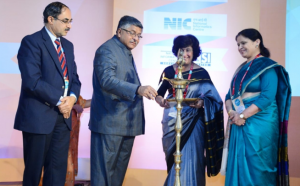 Spearheading deliberations on the application of ICT for enhanced e-Governance, NIC hosted the second edition of Technology Conclave at Pravasi Bhartiya Kendra, Chanakyapuri, New Delhi from 21st to 22nd January 2020. TechConclave is an annual event organized by the Technical Advisory Group (TAG), constituted by NIC, to share experiences and exchange ideas between the government and technology experts from the IT industry on the application of emerging technologies in the government.  
Themed as "Technologies for NextGen Governance", the event was inaugurated by Shri Ravi Shankar Prasad, Honorable Minister for Law & Justice, Communications and Electronics & Information Technology in the presence of Shri Ajay Sawhney, IAS, Secretary, MeitY, Shri Sameer Garde, President, CISCO (India & SAARC), Dr. Neeta Verma, DG, NIC and Dr. Savita Dawar, DDG & Chair, TAG, NIC. Senior officers from MeitY and Central & State Governments as well as State Informatics Officers & Additional State Informatics Officers from NIC State Centres attended the event. 
Praising the efforts of NIC for organizing TechConclave, Shri Ravi Shankar Prasad, in his address, encouraged NIC officers to keep enhancing its core strength of tech competence in the fast changing tech scenario and lead Digital Inclusions and Financial Inclusions, and also promote technology engagement with people to digitally literate India.
The keynote address was delivered by Shri Sameer Garde who underscored emerging macro & technology trends, impacting next-generation governance and the use of new-age technologies to lead India into digital future.
Shri Ajay Sawhney, Secretary, MeitY appreciated NIC for organizing TechConclave to exchange knowledge and experiences between eminent experts from governance and industry to explore the emerging technologies, challenges and solutions.
Extending welcome to the dignitaries, Dr. Neeta Verma, in her speech, highlighted that it is a platform to share experiences in adoption of emerging technologies, opportunities & future trends. "These two days of focused technology inputs will serve the intended purpose of  continuous learning and upskilling, which will make technology enthusiasts fit for future", she added.
The inaugural session ended with Vote of Thanks by Dr. Savita Dawar. The next session held on "Dismantling Feudal Chains Digitally" was chaired by Shri D.C. Misra, DDG, NIC who invited Dr. Lalitesh Katragadda, Founder, Indihood for deliberation. Shri Nagesh Shastri, DDG, NIC chaired a session on  "Learning from Aadhaar and UPI architectures for building massive scale public digital platforms". Dr. Pramod Varma, CTO EkStep, Chief Architect Aadhar & India Stack was the speaker. Shri Santanu Roy Chowdhury, ITS Lead, Intel Technology India Private Limited spoke on "Evolution of Compute Technologies and Way Forward" in the same session.
Emphasizing the impact of artificial intelligence, the following session on "Unlock the Value of Unstructured Data with AI" was chaired by Shri M Vinayak Rao, DDG, NIC. Mr. Charles Sevior, CTO, Unstructured Data Solutions, Dell EMC (APJ + GC Region) was invited for deliberation, while Shri Ankit Jain, Technical Sales Leader, IBM spoke on "Cybersecurity – Security by design".
On the second day, Shri P Harish, IFS, Additional Secretary (Economic Diplomacy), Ministry of External Affairs and Dr. Neeta Verma, DG, NIC jointly released a book titled 'UnMukt – Science and Art of Design Thinking', written by Shri Arun Jain, Chairman and MD, Intellect Design Arena. The first session was chaired by Shri P Harish and Shri Arun Jain delivered the keynote address, elaborating on "Skill, Expertise, Perspective, Idea & Alignment - 5 forces that drive design".
Shri A K Sinha, DDG, NIC chaired the next session on "Digital Platforms in Health Sector" during which Shri Kiran Anandampillai, CEO and Founder - Drishti, Core Volunteer - Healthcare at iSPIRT, and Advisor (Technology) at National Health Authority was the speaker.
The following session was chaired by Shri B Vinaya, DDG, NIC. Shri Dinakar Guniguntala, Cloud Runtimes Architect, IBM and Shri R P Singh, CEO, Nucleus Software spoke on "The Challenge of Modern Microservices -To be and Not to be" and "Smart Software" respectively.
Shri Rajesh Goel, Country Manager, Technology, HPE spoke on "Journey to Infrastructure Management and Analytics" in a session chaired by Smt. Padmavathi Viswanathan, DDG, NIC.
Shri Gautam Ghosh, DDG, NIC chaired a session having presentations on "Use Cases for Deployment of Microservice Architecture for Large Applications" and "Intelligent Automation for Digital Governance". Shri Prashant Parashar, Technical Architect, Snapdeal spoke on "Microservices, Reusability & Replaceability of Services", while Shri Kartik Krishnan, Partner, Ernst & Young LLP spoke on "Digital Transformation Using Automation".
Dr. Sandeep Saxena, IAS, Sr. Deputy Election Commissioner, ECI spoke on "Role of ICT in Strengthening the Democracy" during a session chaired by Dr. Ranjna Nagpal, DDG, NIC.
The Technology Conclave concluded on a successful note, with closing remarks shared by Shri S B Singh, DDG, NIC. Dr. Neeta Verma also shared her feedback about the event and appreciated all the speakers for sharing invaluable insights. Dr. R K Mishra, Senior Technical Director, NIC delivered the Vote of Thanks.
The webcast video covering the entire event is available at http://webcast.gov.in/techconclave-2020/