Haryana Chief Minister Sh. Manohar Lal Presented Paperless Budget on 28th February 2020
Deepak Sawant, Haryana
sawant[dot]deepak[at]nic[dot]in
|
Mar 9, 2020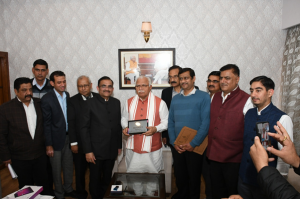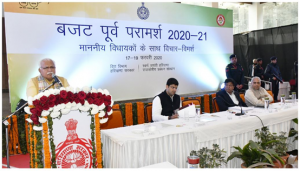 The Haryana State Annual Budget 2020-2021 was presented in Haryana Vidhan Sabha on 28/02/2020 by the Hon'ble Chief Minister Haryana who is also Finance Minister and holds the charge of Finance Department. The budget was presented through Tab and It was a first paperless Budget in India. Android based Mobile App is developed by NIC Haryana which contains whole Budget related documents to be presented in assembly. On this occasion, Sh. Rajesh Khullar, Principal Secretary to CM, Sh. T.V.S.N Prasad, ACS Finance, Sh. Deepak Bansal, SIO, NIC-Haryana, Sh. Virender Trivedi, Scientist-E, NIC-Haryana and Sh. Ashish, Scientist-C, NIC-Haryana were also present. CM Haryana appreciated the hard work done by NIC-Haryana officers and specifically thanks NIC-Haryana for this paperless Budget presentation initiative.
NIC, Haryana is continuously providing technical support to the State Finance Department in preparation of State Budget and its related documents and this is another in continuation that the State Annual Budget was prepared and presented successfully & timely in Haryana Vidhan Sabha. The Integrated Financial Management System developed in-house by the NIC, Haryana is the main driving force for accomplishing the task in a time bound manner. Entire financial activities are done through the system itself. The major highlights of the Budget are:
In Haryana, this was the first time that any Chief Minister presented its State Budget as Finance Minister in Assembly.
Hon'ble Chief Minister entered the Vidhan Sabha with the Tablet in his hand instead of bag as per past practice by all Finance Ministers
Haryana Vidhan Sabha becomes the first in the country where entire Budget was presented in a Tablet to entire MLAs instead of Papers that leads to a Paperless Budget 2020-2021.
NIC, Haryana team developed a Budget application on a very short notice of 5 days and readied 140 Tablets with entire budget on 28/02/2020 morning after working day and night to get it presented in Vidhan Sabha in time.
Chief Minister as Finance Minster read his speech from Tablet itself. Many MLAs were also hooked to the tablet to view speech being read by FM.
Before Finalising the Budget Estimates 2020-21, this is the First time that Hon'ble Chief Minister as Finance Minister hold Pre-Budget Consultations with various stakeholders and tried to implement in State Budget.
The suggestions from all sectors were incorporated in the Final Budget 2020-21 presented by CM on 28/02/2020. It was a herculean task to incorporate the suggestions of various sectors as it involved all the departments/ Principal Accountant General Office/ Finance Department and NIC, but the activity was completed in time after group discussions with all stake holders on a single platform. More than 70% of the suggestions were incorporated in the Budget that has Financial Implications and it has mentioned in the Budget Speech presented in Vidhan Sabha.
NIC Haryana provided a comprehensive dashboard to Hon'ble Chief Minister who also holds the charge of Finance Minister Haryana for monitoring of day to day financial transactions including department receipts and expenditure.
 Based upon the Dashboard, CM Haryana had reviewed the various schemes and suggested certain re-organization of Schemes based upon the implementing departments and deletion of outdated schemes during discussion with administrative secretaries. 132 Schemes merged to 46 schemes besides discontinuation of 18 schemes and it was inducted in Budget 2020-21.
NIC Haryana developed Mobile Application for Haryana Budget 2020-21 on a very short notice of 5 days. The application was also got installed in all the 140 tablets that were given to the MLAs prior to Budget presentation on 28/02/2020.
Sixteen (16) different types of documents related to State Budget were prepared for Budget 2020-21 for Haryana Vidhan Sabha.
Prepared 200 Pen-Drives of Budget 2020-21 for Media.
The entire budget 2020-21 was also hosted on official website of Finance Department Haryana during its presentation in Haryana Vidhan Sabha.
The activity was appreciated by the Chief Minister, Additional Chief Secretary Finance and all the officers of the Finance Department.