Governance
Showing 196 to 199 of total 199 records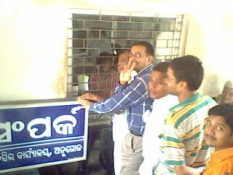 S.K.Chatterjee
|
July 2009
Angul, a centrally located district in the State of Orissa came into existence on April 1, 1993. Area wise, it is the 11th largest district of Orissa. Angul is situated on the National Highway No 42 is accessible from all parts of the state. Angul has contributed the rich and glorious culture along...
National e-Governance Plan (NeGP) is one of the landmark programmes of the department. It has been operational for some time now. How is it shaping up the e-Governance landscape in the country?
My tryst with computerisation started as Chairperson in the Tamil Nadu Teachers Recruitment Board (TRB). The main job of the TRB is recruiting teachers for schools as well as for colleges. The manner in which candidates were evaluated gave room to manipulation. All data was available to anyone for...
Mohammad Haleem Khan spoke exclusively to Informatics on Right To Information Act and CICs ICT initiatives to empower the citizen to avail information they so desired: