Agriculture
Showing 1 to 5 of total 66 records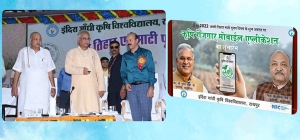 Y. V. Shreenivas Rao, Chattisgarh
yvsrao[at]nic[dot]in
|
May 10, 2022
Hon'ble Chief Minister of Chhattisgarh, Shri Bhupesh Baghel inaugurated e KrishiRojgar an Android-based Mobile app for the farmers of CG at state level festival "Akti Tihar Evam Mati Pujan Divas " on 03rd May 2022 at Indira Gandhi Krishi Vishwavidyalaya...
Y. V. Shreenivas Rao, Chattisgarh
yvsrao[at]nic[dot]in
|
Jan 12, 2022
Smt. Anusuiya Uikey, Hon'ble Governor of Chhattisgarh inaugurated E KrishiPanchang 2022 an Agro Almanac for the farmers of CG [ Android-based Mobile app ] (https://play.google.com/store/apps/details?id=igmis.igkv.krishipanchang) at state level workshop on "Transferring Chhattisgarh...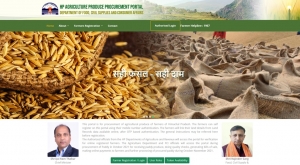 Ajay Singh Chahal, Himachal Pradesh
ajay[dot]chahal[at]nic[dot]in
|
Oct 14, 2021
The Himachal Pradesh Agriculture Produce Procurement Portal has been launched on 11th October 2021 by Hon'ble Member of Assembly from Chintpurni, Sh. Balbir Singh in Una. Sh. Balbir Bagga, Chairperson, Agricultural Produce Marketing Committee, Una, Joint Director, Food, Civil Supplies and Consumer...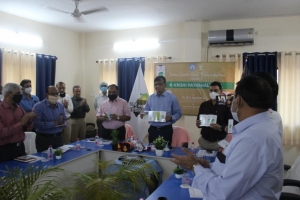 Y. V. Shreenivas Rao, Chattisgarh
yvsrao[at]nic[dot]in
|
Nov 11, 2020
In a simple yet glittering online ceremony on 9th November 2020, the android based Student mobile App e-KrishiPathshala has been inaugurated at Indira Gandhi KrishiVishwavidyalay (IGKV), Raipur by the Chief Guest Dr. R.C.Agrawal, Deputy Director General (Agril. Education) ICAR, New Delhi by running...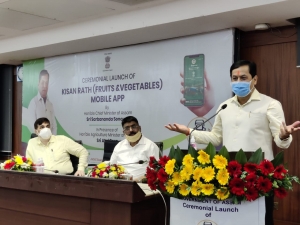 Kavita Barkakoty, Assam
asm-kavita[at]nic[dot]in
|
Oct 7, 2020
The Hon'ble Chief Minister of Assam Shri Sarbananda Sonowal launched the National Informatics Centre (NIC) developed Kisan Rath App on 6th October, 2020 for Assam. The App comes as a boon to growers of perishable fruits and vegetable in the State. It will facilitate timely selling of their produce...