Governance
Showing 16 to 20 of total 216 records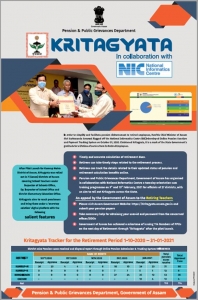 Kavita Barkakoty, Assam
asm-kavita[at]nic[dot]in
|
Feb 12, 2021
Subsequent to the trainings that were imparted to seven Districts of Assam after the pilot implementation, KRITAGYATA had reached a milestone of distributing 114 number of PPOs (Pension Payment Orders) on the next day of retirement to the retirees of the above districts of Assam. With an aim to cover...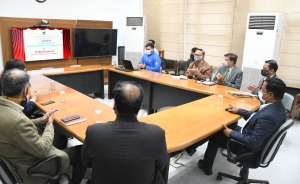 Vivek Verma, Chandigarh
vivek[dot]verma[at]nic[dot]in
|
Jan 19, 2021
Adviser to the Administrator Sh. Manoj Parida, IAS launched "Leave Module of eHRMS" on 14th January 2021 developed by NIC for all Departments of Chandigarh Administration, at UT Secretariat in the presence of senior UT officers. This new module would enable the UT Administration...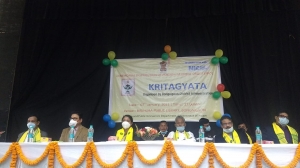 Kavita Barkakoty, Assam
asm-kavita[at]nic[dot]in
|
Jan 12, 2021
Hon'ble Minister for Pension & Public Grievances Assam, Shri Phani Bhushan Choudhury, distributed Pension Payment Orders (PPO) to retirees in a ceremonial function on 7th January 2021, organised by the District Administration of Bongaigaon district. The PPOs were generated through KRITAGYATA...
Ajay Singh Chahal, Himachal Pradesh
ajay[dot]chahal[at]nic[dot]in
|
Jan 11, 2021
Sh. Jai Ram Thakur, Hon'ble Chief Minister, Himachal Pradesh launched three ICT initiatives of Chief Minister office on 6th January 2021 in the virtual presence of 34 Hon'ble Members of Legislative Assembly at Shimla. The Chief Minster expressed the hope that with the launch of these initiatives,...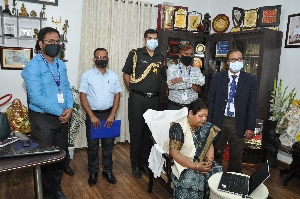 Y. V. Shreenivas Rao, Chattisgarh
yvsrao[at]nic[dot]in
|
Jan 7, 2021
On the 1st Jan' 2021 Honorable Governor, Chhattisgarh State Ms. Anusuiya Uikey has inaugurated the eSamadhan portal (http://esamadhan.cg.gov.in ) in the presence of Secretary to Governor, Legal Advisor to Hon'ble Governor, Deputy secretary and host of other senior officials. The eSamadhan...