Honourable Chief Minister, Himachal Pradesh Launches Schools Safety Application
Sandeep Sood, Himachal Pradesh
sood[dot]sandeep[at]nic[dot]in
|
Oct 18, 2023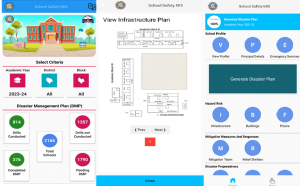 The Himachal Pradesh State Disaster Management Authority (HPSDMA) organised 13th Edition of Annual Mass Awareness Campaign on Disaster Risk Reduction - Samarth. As part of Samarth, HPSDMA organised various events at District and State level to educate common citizen about the type of disasters and how to effectively handle them to reduce risk.
During the Samarth 2023, the Honourable Chief Minister Himachal Pradesh, Sh. Sukhvinder Singh  Sukhu   launched  Schools Safety  application   developed  by  NIC  Himachal Pradesh. Sh. Jagat Singh Negi, Revenue Minister, Sh. Sanjay Awasthi, CPS, Sh. Sh. O.C. Sharma, Principal Secretary (Revenue),  Sh. Ajay Singh Chahal, DDG & SIO Himachal Pradesh, Sh. D.C. Rana, Director SDMA & Special Secretary (Revenue), Sh. Sandeep Sood, Scientist-F & Group Head and Sh. Sanjay Kumar, Scientist-E were also present on the occasion.
NIC Himachal Pradesh has developed Schools Safety web and mobile application to help HPSDMA in getting annual Disaster Management Plan (DMP) prepared by all the schools in the state. The mobile app provides template for preparation of DMP effortlessly and automatically. The nodal officer of every school has to login in the app and add requisite information in the standard template to prepare and submit the plan. The Block, District and State administrators can monitor the progress made in preparation of plan using the mobile app as well as the portal. The HPSDMA had distributed mobile application to some pilot schools for preparation of Annual School Disaster Management Plan for the current academic year. Based on the performance of schools, the Hon'ble Chief Minister also awarded the top performing schools with a cash prize ranging between Rupees 50K to 1.25 Lakh.
Schools Safety MIS (https://hpsdmaplan.nic.in/ssmis) is a web application supplemented by Schools Safety mobile app available on both Android and iOS to facilitate the various schools throughout the state, in preparing the Disaster Management Plan (DMP). UDISE code already allocated to the schools is used as User ID for logging into the web application as well as mobile app. The DMP is prepared by the schools and the State, District and Block level authorities can monitor the progress of preparation of DMP and disaster preparedness by various schools under their jurisdiction. This software helps in monitoring of disaster preparedness of various schools, by the higher authorities.