Inaugurations
Showing 11 to 15 of total 313 records
Kavita Barkakoty, Assam
asm-kavita[at]nic[dot]in
|
Mar 31, 2022
Guwahati 29 March 2022: The FSL MIS in eFSL Application of the Interoperable Criminal Justice System (ICJS) was inaugurated by Shri Bhaskar Jyoti Mahanta, IPS, Director General of Police Assam in a function held in the Conference Hall of Police HQ, Guwahati today (29-03-2022). Addl SP's...
Deepak Sawant, Haryana
sawant[dot]deepak[at]nic[dot]in
|
Feb 7, 2022
In sync with Digital India programme, e-Girdawari android based mobile app was launched by Sh. Pranab Kishore Das, IAS, ACS & Financial Commissioner Revenue, Haryana on 04-02-2022. App has been designed and developed in-house by National Informatics Centre, Haryana on the state of art framework. ...
Y. V. Shreenivas Rao, Chattisgarh
yvsrao[at]nic[dot]in
|
Jan 12, 2022
Smt. Anusuiya Uikey, Hon'ble Governor of Chhattisgarh inaugurated E KrishiPanchang 2022 an Agro Almanac for the farmers of CG [ Android-based Mobile app ] (https://play.google.com/store/apps/details?id=igmis.igkv.krishipanchang) at state level workshop on "Transferring Chhattisgarh...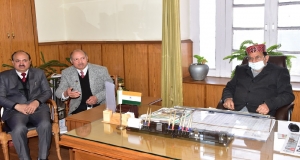 Ajay Singh Chahal, Himachal Pradesh
ajay[dot]chahal[at]nic[dot]in
|
Jan 7, 2022
Sh. Suresh Bhardwaj, Hon'ble Urban Development Minister, Himachal Pradesh launched the web portal of Himachal Pradesh Real Estate Authority at Shimla on 7-January-2022. Dr. Shrikant Baldi, Chairperson, HP RERA, Sh. B.C. Badalia, Member (Administration), Smt. Niraj Kumari Chandla, Joint Secretary...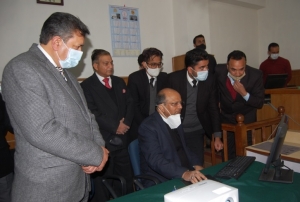 Ajay Singh Chahal, Himachal Pradesh
ajay[dot]chahal[at]nic[dot]in
|
Jan 5, 2022
Justice Mohammad Rafiq, Hon'ble Chief Justice of Himachal Pradesh High Court inaugurated the Virtual Court for Shimla district on 30 December 2021 in an august ceremony in District Courts Complex, Shimla. Mrs Justice Sabina, Mr Justice Tarlok Singh Chauhan, Mr Justice Vivek Singh Thakur, Mr Justice...