Inaugurations
Showing 6 to 10 of total 310 records
Y. V. Shreenivas Rao, Chattisgarh
yvsrao[at]nic[dot]in
|
May 10, 2022
Ms. Anusuiya Uikey, Hon'ble Governor, Chhattisgarh released the annual book of NIC Chhattisgarh – 'The Digital Pathway - Enabling eGovernance Platforms' on 18th April 2022 in a special programme organised at Raj Bhawan. Delivering welcome address Dr. Ashok Kumar Hota,...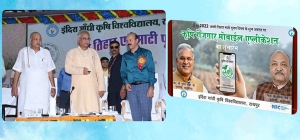 Y. V. Shreenivas Rao, Chattisgarh
yvsrao[at]nic[dot]in
|
May 10, 2022
Hon'ble Chief Minister of Chhattisgarh, Shri Bhupesh Baghel inaugurated e KrishiRojgar an Android-based Mobile app for the farmers of CG at state level festival "Akti Tihar Evam Mati Pujan Divas " on 03rd May 2022 at Indira Gandhi Krishi Vishwavidyalaya...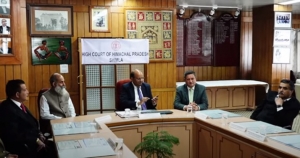 Ajay Singh Chahal, Himachal Pradesh
ajay[dot]chahal[at]nic[dot]in
|
Apr 8, 2022
Hon'ble Mr. Justice Mohammad Rafiq, the Chief Justice, High Court of Himachal Pradesh, launched the Android based Court Cases Status Mobile Application of High Court of Himachal Pradesh, in the august presence of the Judges of H.P. High Court, Hon'ble Ms. Justice Sabina, Hon'ble Mr....
Kavita Barkakoty, Assam
asm-kavita[at]nic[dot]in
|
Mar 31, 2022
Guwahati 29 March 2022: The FSL MIS in eFSL Application of the Interoperable Criminal Justice System (ICJS) was inaugurated by Shri Bhaskar Jyoti Mahanta, IPS, Director General of Police Assam in a function held in the Conference Hall of Police HQ, Guwahati today (29-03-2022). Addl SP's...
Deepak Sawant, Haryana
sawant[dot]deepak[at]nic[dot]in
|
Feb 7, 2022
In sync with Digital India programme, e-Girdawari android based mobile app was launched by Sh. Pranab Kishore Das, IAS, ACS & Financial Commissioner Revenue, Haryana on 04-02-2022. App has been designed and developed in-house by National Informatics Centre, Haryana on the state of art framework. ...