Chief Secretary of Assam visits NIC Assam
Kavita Barkakoty, Assam
asm-kavita[at]nic[dot]in
|
Feb 24, 2023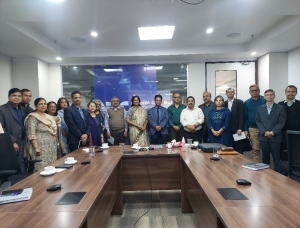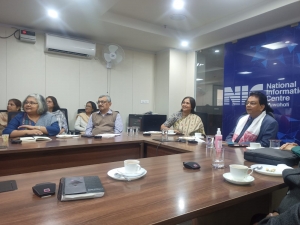 Guwahati, February 23: The Chief Secretary of Assam Shri Paban Borthakur, IAS visited NIC Assam and took a comprehensive review of the work that the National Informatics Centre (NIC) has been doing for the Assam Government.  Dr Suchitra Pyarelal, SIO Assam and DDG gave a detailed presentation of the projects of NIC Assam. HoDs also spoke briefly about their project status.
Sh Paban Borthakur, IAS, spent more than two hours in NIC Assam reviewing the projects. NIC Assam has been offering ICT support and guidance to the Assam Government since 1988, and has been the pioneering organization for most of the State's digital initiatives. He went through a detailed presentation of NIC projects, services, products and new initiatives which are running in the State, and critically appreciated different aspects of each activity. He emphasized the need of a complete paperless eoffice implementation between all the Directorates and parent departments in the Secretariat. 
He appreciated NIC for the high-speed Secretariat LAN and networking throughout the state, steps for establishing the state-of-the art NER Data Centre that will come up as the sixth National Data Centre, VC support, provision of NIC email to State Govt. departments  and successful efforts in standardizing all government web portals to enhance the experience of citizens in e-governance, implementing digital filing systems in government offices and its extraordinary support in fighting Covid-19 by developing a variety of applications .
He appreciated the exemplary work being done by NIC Assam in various sectors : Mission Basundhara, RTPS, Sadbhavana , EoDB, Transport services , Public Distribution System, Kritagyata-  pensions processing , eProcurement, eGRAS, eHospital, eRupantor  etc. He particularly appreciated the work done by the DIOs at the district level and said that he would interact and have a separate presentation from DIOs in the near future. CSalso reviewed the digital dashboards for the Chief Minister.
SIO informed the Chief Secretary on the 'IoT based Jaltarangini project' for flood control which was developed by DIO of Hailakandi and ADIO of Dibrugarh and the manner in which the project will be rolled out across all rivers in Assam by the Assam State Disaster Management Authority. CS  was informed on the Blockchain integration in Land records developed by NIC Assam in collaboration with CoE Karnataka that has been made ready for the pilot implementation in Assam.
He also sought concept notes for taking forward the following important projects:
Judicial: Interface for filing Court cases by Govt. advocates to higher courts on time.
SSO: For implementation of Single Sign On of important state projects
eHRMS: For implementation of eHRMS amongst all state government departments and taking forward the Hon'ble Chief Minister Assam's perception of utilizing eHRMS as a repository of upcoming new appointees' skillset, in the of Govt. of Assam's departments
ePrastuti – A mechanism to update all department websites standardized under ePrastuti
He suggested implementation eGranthalaya in AASC- Assam Administrative Staff College
He hoped that the State Government, together with NIC, would very soon make Digital Assam a practical reality.