Assam State Co-ordinator, Shri Ashish Kr. Asthana, DDG, interacts with all DIOs of Assam.
Kavita Barkakoty, Assam
asm-kavita[at]nic[dot]in
|
Dec 13, 2022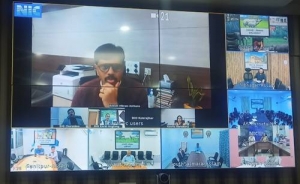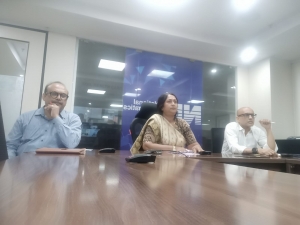 Dated : 22nd Nov 2022
At the outset of the Interactive Meeting, Assam State Co-ordinator, Shri Ashish Kr. Asthana, DDG, addressed the participants and apprised the meeting about the vision for NIC 2.0
Assam DIOs and ADIOs actively participated in the VC, under the leadership of SIO Assam, Dr. Suchitra Pyarelal, DDG, and ASIOs of Assam. The main outcomes of the meeting are highlighted below :
Following Projects developed by NIC Officers of Assam may be taken up for National level replication, such as :

Jaltarangini – developed by ADIO Diburgarh Surajit Phukan and DIO Hailakandi Monsoor Akhtar Barbhuiya, in co-ordination with ASDMA (Assam Disaster Management Authority).
eNirvachan – Election software

A few Groups have been formed in Assam, with an aim to tap into the available knowledge of NIC Officers and to build and augment that knowledge towards developing new Applications in emerging areas :

Expert Group for Mobile Apps
Expert Group for GIS Applications – in the process of formation.
Expert Group for AI

The need for building the core competency of NIC Officers in Assam was highlighted – capacity building in core areas and emerging technologies was stressed on.
The manpower shortage in Assam was brought up – out of 35 districts, 4 districts are new districts with no manpower at all, where additional responsibility has been given to DIO/ADIO of nearby districts. In the remaining 31 districts, 22 districts are operating with single manpower (DIO) and only 9 districts have both DIO and ADIO. This shortage needs to be addressed at the earliest possible in order that NIC District Centres can function optimally.
Infrastructure –

Network redundancy needs to be ensured in all NIC Centres. This is a critical factor in ensuring un-interrupted Network facilities at all times.
Cloud resources need to be ensured for collaborative development, since Projects are being developed by groups of DIOs across the State, headed by Project Heads in the NIC State Centre.
The Interactive Meeting was fruitful with active participation from all. Assam State Co-ordinator, Shri Ashish Kr. Asthana, DDG, and SIO Assam, Dr. Suchitra Pyarelal, DDG, commended the excellent work done by NIC District officers and looked forward to achieving even higher objectives in Assam.