Launch of eMantriSabha Application by Honble Chief Minister of Assam
Kavita Barkakoty, Assam
asm-kavita[at]nic[dot]in
|
Jun 6, 2023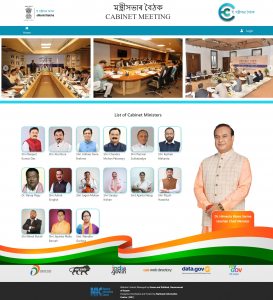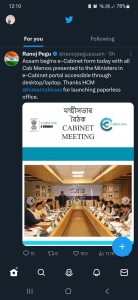 The Government of Assam utilized eMantriSabha application, a comprehensive solution developed by NIC Assam, to digitize all activities associated with Cabinet Meetings. On 31/05/2023, a fully digital and paperless Cabinet Meeting was successfully conducted using this application.
The Assam Government has automated all activities of the Cabinet Meeting, starting from the preparation of memorandums by departments in the web portal to obtaining approvals and submitting approved memorandums to the Cabinet Cell for inclusion in the meeting agenda. The portal can be used to schedule Cabinet Meetings, prepare meeting notices and agendas, as well as add additional items to the agenda at any moment until the meeting ends.
To view the agenda on the meeting day there are two types of application available for ministers.
1)Windows Desktop Application which is installed in the desktop computers available in the Cabinet Meeting room.
2)Android Application which installed in each Minister's Android Tablet.
Both the applications are used for viewing the agenda points of the meeting where all the memorandums and annexure documents are displayed.
The decisions made by the Cabinet can be recorded and shared with the concerned departments through the portal. The portal will also serve as a dashboard for the Chief Minister's Office and the Chief Secretary's Office to keep track of the progress of work done on Cabinet decisions. The objective of eMantriSabha Assam is to eliminate the physical movement of files and enable real-time sharing of information for all stakeholders, while reducing the usage of paper during Cabinet meetings.
Technology Used:
Web application              : PHP Codeigniter  Framework
Database                        : Postgres 13.0
Apps(Android/Desktop)   : Flutter 3.6
External Tool                   : NICDsigner to sign PDF
NIC Assam Team:
Ms. Kabita Roy Das, DDG & SIO
Mr. Sumitav Saikia, Senior Director (IT)
Mr. Gautam Chandra Deva Sarma, Deputy Director (IT)
Ms. Maitreyee Sarma, Assistant Director (IT)