e-court
Showing 11 to 15 of total 33 records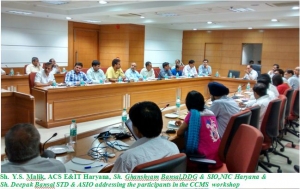 Poonam Gupta, Haryana
poonam[dot]g[at]nic[dot]in
|
May 30, 2014
The Court Cases Monitoring System (CCMS) Web based software, developed & hosted by NIC Haryana, is being implemented by most of the departments & PSUs of Haryana. The CCMS is a web based centralized solution having features like: Centralized data input &...
Ajay Singh Chahal, Himachal Pradesh
ajay[dot]chahal[at]nic[dot]in
|
Dec 18, 2013
The Interoperable Criminal Justice System-iCJS has been conferred with the CSI Nihilent e-Governance Award of Excellence in the 48th CSI Convention at Visakhapatnam on 14th December 2013. The Award was received by Sh. S.R. Mardi IPS, Additional Director General of Prisons, Himachal Pradesh, Dr. Saurabh...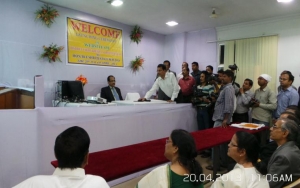 A. K. Hota, Odisha
ak[dot]hota[at]nic[dot]in
|
Apr 22, 2013
The official website of District Judge court Khurda (http://districtcourtkhurda.nic.in) was inaugurated on Dt-20.04.2013 by Hon'ble Shri Justice M. M. Das of Odisha High Court in the Chamber of District Judge, Khurda at Bhubaneswar in the presence of Shri Debabrata Dash, Hon'ble District Judge,...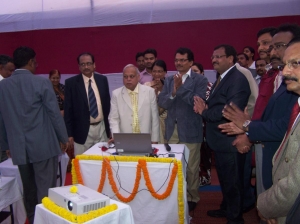 A. K. Hota, Odisha
ak[dot]hota[at]nic[dot]in
|
Jan 22, 2013
The website of District Court, Cuttack (http://districtcourtcuttack.nic.in) was inaugurated by Hon'ble Chief Justice (acting) of Odisha High Court Shri Pradip Kumar Mohanty on 19th January 2013 at the premises of District Court, Cuttack. The inauguration ceremony was presided by Shri...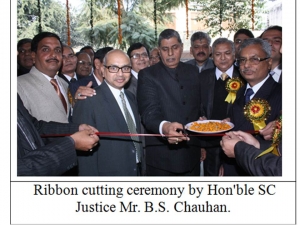 Anshu Rohatgi, Uttar Pradesh
anshu[dot]rohatgi[at]nic[dot]in
|
Dec 19, 2012
Hon'ble Justice of Supreme Court of India Shri B.S Chauhan inaugurated the automated judicial service center and computer server room at Muzaffarnagar, Uttar Pradesh on 8th December 2012. The occasion was also graced by the presence of Hon'ble Administrative Judge, Muzaffarnagar Justice...