Launch of Mobile App by Honourable Chief Justice, High Court of Himachal Pradesh
Ajay Singh Chahal, Himachal Pradesh
ajay[dot]chahal[at]nic[dot]in
|
Jan 9, 2016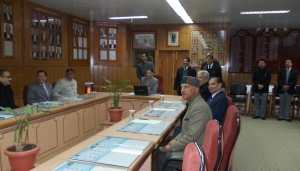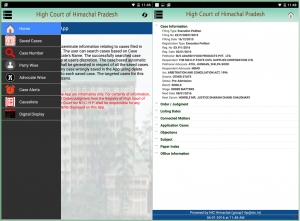 Honourable Mr. Justice Mansoor Ahmad Mir, Chief Justice, High Court of Himachal Pradesh launched the Android based Mobile Application for the convenience of the litigants and lawyers, on 7th January 2016.
The objective of the mobile App is to disseminate information relating to the cases filed in the HP High Court and to generate alerts whenever a particular case comes up for admission, hearing, orders, decisions etc. By using this App, the litigants or lawyers can search cases based on case number, party name, respondent name, advocate name basis. The orders and judgements are also downloadable in this App. A unique feature is that the App saves the data and there is no need of Internet connectivity to view status of saved cases.
Honourable Chief Justice, informed during the inaugural ceremony, that the users will have freedom to delete any case wrongly saved in the App. The cause list and the digital display board of the High Court can also be accessed in this App. The application is downloadable from the HP High Court website at http://hphighcourt.nic.in and from Google Play-store. He appreciated the efforts of the NIC Himachal Pradesh State Centre, NIC Cell in HP High Court and Computer Branch of the High Court in working in an coordinated manner to develop and roll out this Mobile App which will be immensely useful to litigants and lawyers who can store multiple cases for getting auto-alerts whenever any saved case is listed in the cause list. The App can also be used by the Government departments as a reminder system.
Honourable Judges of the HP High Court, Justice Rajeev Sharma, Justice Dharam Chand Chaudhary, Justice Tarlok Singh Chauhan, Justice PS Rana and Justice Sureshwar Thakur were present during the inaugural ceremony.
The ceremony was attended by Advocate General of HP, Assistant Solicitor General of India, HP High Court Bar Association President, Registrar General, other Registrars of the High Court, Director HP Judicial Academy, Member Secretary HP State Legal Services Authority, Central Project Coordinator, SIO NIC HP and NIC officers.
The App has been developed by NIC Himachal Pradesh with the Computer Branch of the HP High Court. Sh. Sandeep Sood, Scientist-D, Sh. Amit Kanojia, Sh. Sajjad Abid and Jitender Sharma are the key-persons from NIC HP.