HARYANA:- News Clipping - Regional Discussion on the e-Courts Project held at Chandigarh Judicial Academy in Sector-43 on 2-4-2016
Deepak Sawant, Haryana
sawant[dot]deepak[at]nic[dot]in
|
Apr 5, 2016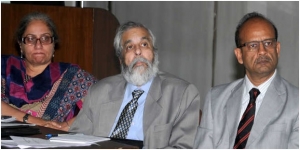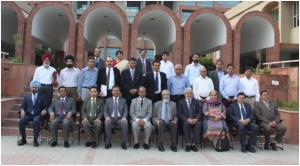 News published in "The Tribune"
Posted at: Apr 3, 2016, 2:00 AM; last updated: Apr 3, 2016, 2:00 AM (IST)
Info on 2.7 cr decided cases available on national grid
Tribune News Service
Chandigarh, April 2
A regional discussion on the e-Courts Project was held at the Chandigarh Judicial Academy in Sector 43 here today.
Justice Madan B Lokur, in-charge, e-Committee, Supreme Court of India, along with judges of the high courts of north Indian states and senior officials, took part in the event.
e-Committee, Supreme Court of India, in consultation with the Central Government, came up with the e-Courts Project. Of the total budget outlay of Rs 900 crore for Phase I of the project, Rs 700 crore had been spent, stated Justice Lokur. He informed that under the project, subordinate courts in the country would be computerised so as to bring transparency, accountability and speedy disposal of cases by sharing case information with litigants and advocates.
The Phase I has culminated in the national judicial data grid where information about 2.3 crore pending cases and 2.7 crore decided cases are available.
Of the total budget outlay of Rs 1,670 crore for Phase II, Rs 200 crore has been released for the purchase of hardware in the year 2015-16.
Justice Lokur discussed difficulties faced by participating high courts in implementation of the e-Courts Project as well as best practices evolved to remove these. The roadmap of Phase II and the need to expedite the programme were also stressed upon.
Each of the participating high court presented the work done under Phase I and II, and shared problems and best practices evolved and implemented. A demonstration on e-filing module enabling advocates and litigants to file cases online 24x7 as per their convenience by paying the court fee online was also given.
Posted at: Apr 3, 2016, 2:00 AM; last updated: Apr 3, 2016, 2:00 AM (IST)
e-Courts Project to complete in 3-4 yrs: SC Judge
Tribune News Service,  Chandigarh, April 2
In a respite to litigants and court officials, all courts across India will be fully computerised in three to four years even as connectivity and maintenance continue to be issues.
Speaking to Chandigarh Tribune here today, Justice Madan B Lokur of the Supreme Court of India said, "Ninety-eight per cent of the courts have been covered in the first phase while the remaining courts will be computerised in the next three to four years."
"The courts in Chandigarh, including the Punjab and Haryana High Court, have done a very good work in this regard," he added.
With digitisation of courts, e-filing of petitions, e-payment and online orders would be made possible. It will save time and money of litigants besides reducing the workload of court officials, who have to take care of a large number of files and reports of court proceedings.
Justice Lokur, in-charge, e-Committee, Supreme Court of India, said however, connectivity and maintenance were the hindrances in the success of the project. "Connectivity is an issue. Also, we need more cooperation from states with regard to maintenance and upgrading of hardware," the Justice added.
The computerisation would include digitisation of records and providing district judges with court docket management mechanism, which maximises the services of judicial officers by distributing equal work among the staff members. Under the system, the Judge can find out from the court website the quantum of work with each judicial officer.
The scheme also includes providing video-conferencing system between district courts and jails to enable courts to decide cases expeditiously without adjourning hearings due to the absence of under trial prisoners.