Haryana - One day workshop on Court Cases Monitoring System (CCMS) Organized
Poonam Gupta, Haryana
poonam[dot]g[at]nic[dot]in
|
May 30, 2014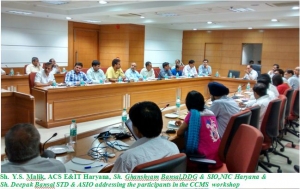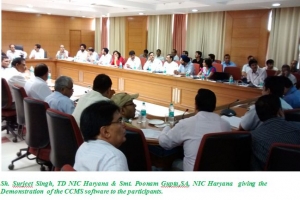 The Court Cases Monitoring System (CCMS) Web based software, developed & hosted by NIC Haryana, is being implemented by most of the departments & PSUs of Haryana. The CCMS is a  web based  centralized solution having  features like:
Centralized data input & processing
Ease in data updating
Query & generation of reports
Ease in transmission of the information
Easy data storage & retrieval
Sh. S.C. Chaudhary, Chief Secretary to Govt. of Haryana reviewed the implementation of CCMS on 20/05/2014 with all the Administrative Secretaries and directed all Departments, Boards & Corporations to implement the CCMS in their offices. The user account of  all the Departments at state level & at District level  have been created & training have been imparted to the concerned officers. The software is a useful tool for the departments for generating various Flash reports on different parameters regarding their court cases filed in District Courts, High Court & Supreme Court. 
As a follow-up of the directions of the Chief Secretary Haryana, a one day workshop on Court Cases Monitoring System (CCMS) was organized on 29th May, 2014 at 6th Floor, Haryana New Secretariat Building, Chandigarh. The Workshop was chaired by Sh. Y.S Malik, IAS, Additional Chief Secretary, Electronics & Information Technology Department & addressed by Sh. Ghan Shyam Bansal, DDG & SIO, NIC Haryana. The Nodal officers identified by all the departments along with NIC officers attended the workshop. The main focus of the workshop was to know the status of implementations of CCMS & to collect the Change Requests (CRs) from the departments, implementing the CCMS.
Sh. Deepak Bansal , STD & ASIO NIC Haryana suggested tips to the participants for successful implementation of CCMS.  Sh. Surjeet Singh, TD NIC Haryana & Smt. Poonam Gupta,SA, NIC Haryana  made a demonstration & explained the functionality of the software & addressed the queries of the participants.   Presently the software is being used by 102 Departments/Boards & Corporations & 37505 cases have been entered in the CCMS. 
At the end of the workshop, the DDG & SIO, NIC-Haryana summed up the proceedings  & thanked all the participants for their valuable suggestions.