GIS services
Showing 6 to 10 of total 30 records
Anshu Rohatgi, Uttar Pradesh
anshu[dot]rohatgi[at]nic[dot]in
|
Sep 2, 2013
An article "e-MANCHITRA: A step towards geo-enabled decentralized planning and decision making in Uttar Pradesh" jointly authored by Dr. L. R. Yadav, Sr. Technical Director and Mr. R. S. Singh, PSA published in e-magazine "India Geospatial Digest August 2013", a...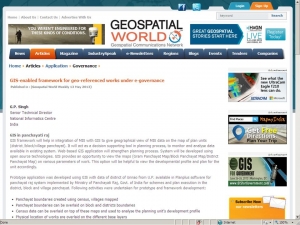 Anshu Rohatgi, Uttar Pradesh
anshu[dot]rohatgi[at]nic[dot]in
|
May 23, 2013
A paper titled 'GIS-enabled framework for geo-referenced works under e-governance' contributed by Shri G.P. Singh, Senior Technical Director, Director, National Informatics Centre, U.P. State Unit, Lucknow has been published in May 2013 issue of Geospatial World Weekly. The paper...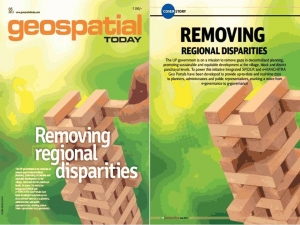 Anshu Rohatgi, Uttar Pradesh
anshu[dot]rohatgi[at]nic[dot]in
|
May 21, 2013
'Removing Regional Disparities' – an article contributed by Dr L.R Yadav, Senior Technical Director and Shri R.S Singh Principal System Analyst, NIC, Lucknow was published as the cover story in one of the leading magazines of GIS in India - 'Geospatial Today'. The magazine...
Lokesh Joshi,
lokesh[at]nic[dot]in
|
Apr 12, 2013
Punjab Remote Sensing Centre is an autonomous organization that functions under the aegis of the Department of Agriculture, Government of Punjab. The key role of the organization is to undertake, promote, coordinate, aid and guide research and development in the area of remote sensing in...
Rajiv Ranjan, Bihar
rajiv[dot]ranjan[at]nic[dot]in
|
Feb 14, 2013
BIHAR GETS GOLD MEDAL FOR "I-BHUGOAL [Bihar Infrastructure Mapping- Geomatics Oriented Application Model] " in NATIONAL E-GOVERNANCE AWARD 2012-13 in category "Innovative use of Technology in E-Governance" given by Ministry of Personnel and Administrative Reforms and Ministry...