Paper contributed by Sh G.P. Singh, STD, NIC, U.P State Unit, Lucknow published in Geospatial World 2013
Anshu Rohatgi, Uttar Pradesh
anshu[dot]rohatgi[at]nic[dot]in
|
May 23, 2013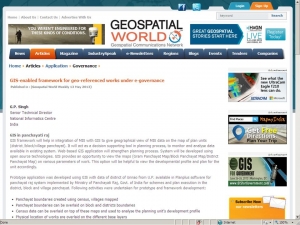 A paper titled 'GIS-enabled framework for geo-referenced works under e-governance' contributed by Shri G.P. Singh, Senior Technical Director, Director, National Informatics Centre, U.P. State Unit, Lucknow has been published in May 2013 issue of  Geospatial World Weekly. The paper details the GIS framework that can help in integration of MIS with GIS to give geographical view of MIS data on the map of plan units (district /block/village panchayat). The study presented in the paper is based on the prototype application developed using GIS with data of district of Unnao from U.P. available in Planplus software for panchayat raj system implemented by Ministry of Panchayati Raj, Govt. of India for schemes and plan execution in the district, block and village panchayat.
The complete paper is available at  http://www.geospatialworld.net/Paper/Application/ArticleView.aspx?aid=30526
www.geospatialworld.net  is a global newsletter and a technical resource for GIS. The Portal disseminates a wide range of information in GIS, Remote Sensing, GPS, Photogrammetry and related sciences. Information and viewpoints are aimed at a wide readership profile including industry, policy makers, academia and end users. The portal is the world's largest geospatial technical resource portal with over 55,000 pages of papers, articles, news, analysis and classified information on various aspects of geospatial sciences, spread over 24 sections. The 10-year-old portal is one of the most referred site averaging over 2,000,000 page-views a month and draws a massive 3,50,000 unique visitors every month making it one of the most popular and reputed portal in this field.
For further details Mr. G.P. Singh can be contacted at gp.singh@nic.in