e-Services
Showing 226 to 230 of total 241 records
M. Vinayak Rao, Sanjay Hardikar
|
October 2009
Madhya Pradesh, the second largest State of India having 50 districts & 313 Blocks, is home to a rich cultural heritage and has practically everything; innumerable monuments, large plateau, spectacular mountain ranges, meandering rivers and miles and miles of dense forests offering a unique and exciting...
Sh. Pradipta Kumar Mohapatra
|
October 2009
An Exclusive Interview with Sh. Pradipta Kumar Mohapatra, IAS, IT Secretary, Govt. of Orissa on successful completion of one year of Implementation of NIC-GeP in Orissa
Vinod Kumar
|
October 2009
Hamirpur district, the Veer Bhoomi is one of the twelve districts of Himachal Pradesh. The tract is hilly covered by Shivalik range. The elevation varies from 400 meters to 1100 meters. The district is well connected by roads from all sides. Hamirpur is the most Literate district in Himachal Pradesh....
Utpal Kumar Ghosh
|
October 2009
Upper Siang -a newly created district with its headquarter at Yingkiong in the state of Arunachal Pradesh, encompassing an area of 6188 Sq. km, is a mountainous region endowed with rich natural resources and biodiversity. The mighty Siang River flows though the heart of the district and is referred to...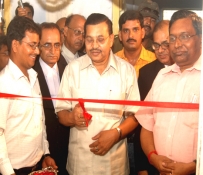 Anil Kumar Singh
|
October 2009
Palamu- famous for its tiger reserve located at the Betla National Park just 25 Km from Daltonganj, the administrative headquarter of the district is situated on the banks of Koel river. The tiger reserve delights tourists with its scenic beauty is part of the nine tiger reserves of India under Project...