e-Services
Showing 6 to 10 of total 239 records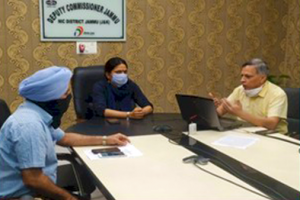 Jit Raj, Jammu and Kashmir
jit[dot]raj[at]nic[dot]in
|
Jun 3, 2020
Jammu, June 02: In order to keep systematic record of all passengers arriving at Jammu railway station and to inform these passengers them about results of COVID-19 tests, that each passenger undergoes, Deputy Commissioner Jammu Ms. Sushma Chauhan has formally launched IT enabled solutions along...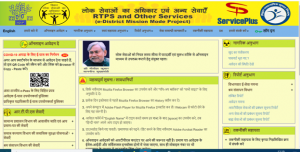 Rajiv Ranjan, Bihar
rajiv[dot]ranjan[at]nic[dot]in
|
May 20, 2020
Background: The Lockdown / Curfew for containment of COVID-19 pandemic was announced by honorable Prime Minister of India to be effective from 25th March 2020. Issuance of e-Pass was felt necessary for movement of persons / private vehicles for maintaining essential services or due to emergency...
Jit Raj, Jammu and Kashmir
jit[dot]raj[at]nic[dot]in
|
May 19, 2020
Jammu & Kashmir Government has launched a web portal URL : http://jkmonitoring.nic.in/ on 18.05.2020 to facilitate its residents stranded in other parts of the country. The portal enables giving updates to those registered and also allows a person to check his application status. ...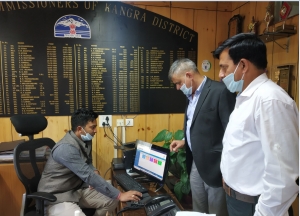 Ajay Singh Chahal, Himachal Pradesh
ajay[dot]chahal[at]nic[dot]in
|
May 16, 2020
Sh. Rakesh Prajapati, IAS Deputy Commissioner, Kangra took the initiative to utilize Service Plus framework for configuring the Covid-19 ePass Surveillance System for citizens of Kangra District. The Service Plus Team at New Delhi, in coordination with Sh. Bhupinder Pathak, Scientist-F/DIO Kangra...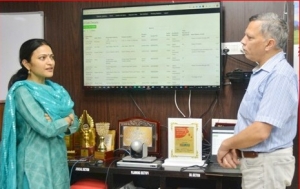 Jit Raj, Jammu and Kashmir
jit[dot]raj[at]nic[dot]in
|
Apr 29, 2020
On 28/04/2020 for near real time response to the grievances & queries received at the district control room, a Call Records Management System (CRMS) has been launched in District Jammu, by the Deputy Commissioner, Sushma Chauhan, IAS. She informed that this technology will enable immediate...