Assam Chief Minister launches four NIC online Applications
Kavita Barkakoty, Assam
asm-kavita[at]nic[dot]in
|
Nov 17, 2022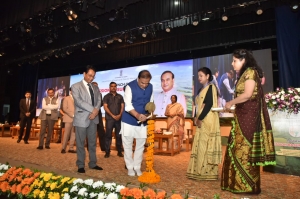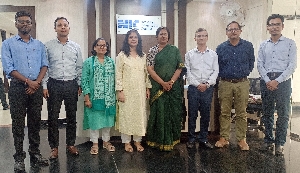 Guwahati, November 14, 2022: Assam Chief Minister Dr Himanta Biswa Sarma on Monday launched Mission Basundhara 2.0, the National Generic Documents Registration System (NGDRS), e-Khazana and the Composite Land Transfer (Automutation)  in an official ceremony held at Shrimanta Sankardev Kalakshetra Auditorium in Guwahati
The ceremonial launch was attended by Hon'ble Revenue Minister Shri Jogen Mohen, Shri Paban Kumar Borthakur, Chief Secretary, Shri Ravi Shankar Prasad, Additional Chief Secretary, Commissioner & Secretary, Revenue, Shri G.D. Tripathy, Principal Secretary, Dr. J.B Ekka, Principal Secretary Panchayat and Rural Development, Shri Mukesh Sahu Principal Secretary, Social Welfare Department ,    Dr. Suchitra Pyarelal, DDG & SIO, NIC Assam, Shri Shantanu P Gotmare Director of Land Records and a host of other dignitaries.
Mission Basundhara has been developed to make land revenue services more efficient and accessible to citizens. The implementation of the mission shall enable achieving the goal of 100% Digitization of Maps and total Integration of Maps, Land Records and Registration for the State under DILRMP.
A total of eight  services developed by NIC Assam are on offer to the public under Mission Basundhara 2.0. The new services are settlement of government Khas and ceiling surplus land, conferring ownership rights to occupancy tenants, settlement of transferred annual Patta land, settlement of village grazing reserve and professional grazing reserve, settlement of land for indigenous special cultivators and settlement of hereditary land of tribal communities.
The National Generic Document Registration System (NGDRS) is a common, generic application product of the Dept of Land Resources, GoI, developed by NIC, Pune for registration departments across the Country. NGDRS has been launched in two districts, Kamrup and Darrang of Assam on pilot basis. The NGDRS team of NIC Pune led by Shri Ajay Joshi, HoD & STD worked closely and contributed greatly to the launch of NGDRS in the two districts.
Composite Land Transfer (Automutation) is an integration of No Objection Certificate for transfer of Immovable Property , Registration and Mutation. Initially launched in  Kamrup and Kamrup Metro , the service has now been opened to all districts of Assam.
e-Khazana promotes the online payment of land revenue for multiple properties using a single payment window. These citizen services are integrated with the citizen service delivery portal, Assam Right to Public Services.
NIC, Assam Team :
Shri Tapan  Kumar Gogoi, Senior Technical Director & HOD
Smt. Sabina Momtaz Sheikh, Principal Systems Analyst
Smt. Farida Begum Saikia, Principal Systems Analyst
Shri Rahul Deka, Senior Systems Analyst
Shri Mridupobon Rajkhowa, Senior Systems Analyst
Shri Mridul Suklabaidya, Systems Analyst
Shri Suman Boro, STA-B