Conference
Showing 21 to 25 of total 110 records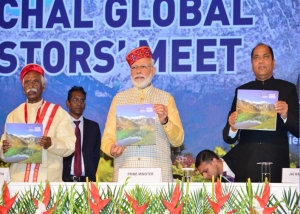 Sandeep Sood, Himachal Pradesh
sood[dot]sandeep[at]nic[dot]in
|
Nov 19, 2019
Sh. Narendra Modi, Hon'ble Prime Minister of India, inaugurated the Global Investors' Meet 2019, the flagship business event of the Government of Himachal Pradesh, on 7th November 2019 at Dharamshala. NIC District Unit, Kangra at Dharamshala provided the necessary technical support in setting...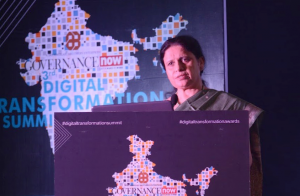 Shashi Kant Pandey, Delhi
sk[dot]pandey[at]nic[dot]in
|
Nov 7, 2019
The 3rd Digital Transformation Summit was organized by Governance Now in New Delhi on 6th November 2019. Based on the theme, "Driving a Trillion-dollar Digital Economy", the Summit witnessed deliberations on efforts and initiatives taken by the Indian Government towards transforming...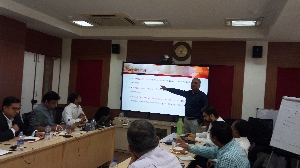 Y. V. Shreenivas Rao, Chattisgarh
yvsrao[at]nic[dot]in
|
Sep 20, 2019
A one day workshop on Integrated Pro-active EGovernance (IPeG) System was organised by Department of IT, Govt. of Chhattisagrh at Raipur on 16th sep, 2019. The objective of the workshop was to deliberate on key challenges in delivery of Government services to citizens which includes ...
Shashi Kant Pandey, Delhi
sk[dot]pandey[at]nic[dot]in
|
Aug 30, 2019
The 12th India Security Summit was organized by the Associated Chambers of Commerce and Industry of India (ASSOCHAM) in New Delhi on 28th August 2019. Dr. Jitendra Singh, Honorable Minister of State (Independent Charge) for the Ministry of Development of North Eastern Region and Minister of State...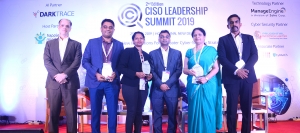 Shashi Kant Pandey, Delhi
sk[dot]pandey[at]nic[dot]in
|
Aug 13, 2019
The second edition of CISO Leadership Summit 2019 was organized by Kamikaze B2B Media at Holiday Inn, New Delhi, on 25th July 2019. Dr. Neeta Verma, Director General, NIC also participated in the event and presented her views during a panel discussion on "Evaluating The New Security, Data Protection...