NIC & NICSI participate in Global Exhibition on Services 2019 held in Bengaluru
S. Narasimha Rao, Karnataka
sn[dot]rao[at]nic[dot]in
|
Dec 10, 2019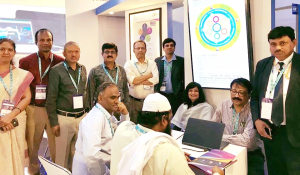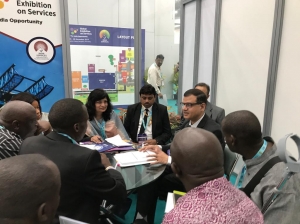 NIC and NICSI actively participated in the Global Exhibition on Services (GES) 2019, organized by the Ministry of Commerce & Industry, Government of India, in association with the Services Export Promotion Council (SEPC) and Confederation of Indian Industry (CII) in Bengaluru from 26th to 28th November 2019. The Exhibition was inaugurated by Shri Piyush Goyal, Union Minister of Commerce & Industry and Railways, Government of India.
Reflecting the theme of the Ministry of Electronics and Information Technology (MeitY), 'New India-Digital India', both the organizations, under the guidance of Director General (NIC), put up a grand show with dedicated efforts of the International Cooperation Division (ICD), NIC, Product Business Division (PBD), NICSI, New Delhi and NIC State Centre, Karnataka.
About 8 NIC and NICSI software products were showcased through print material, videos, presentations etc., at three stalls. These included eOffice, eProcurement, eHospital,
ServicePlus, DARPAN, BhuNaksha, ePrisons and eWay Bill. Besides, the activities and achievements of the Centre of Excellence for Data Analytics (CEDA) and the Centre of Excellence for Artificial Intelligence (CoE-AI) were also presented.
Shri B. Vinaya, Deputy Director General & State Informatics Officer (NIC Karnataka) and his Team, Smt. Anjali Dhingra, Senior Technical Director & General Manager (PBD, NICSI), New Delhi, Shri Anand Srivastava, Technical Director, ICD, NIC HQ, New Delhi, Shri Ashutosh P. Maurya, Scientist-D, CEDA, NICSI, New Delhi and Shri Shiv Kant Shukla, Scientist-C, CCBS Division, NIC HQ, New Delhi, participated in the Exhibition.
Several Central & State Government Departments and Organizations, Public Sector Undertakings (PSUs) and private companies throughout India participated in the event under two themes, viz. India's Public Digital Platform & Innovation - Fueling India's Growth and Entrepreneurship. International delegates from over 60 countries also took part in the mega event.
With an aim to promote NIC and NICSI software products at international level, discussions were held with delegates of about 11 countries including Azerbaijan, Bulgaria, Canada, Congo, Cameroon, Kenya, Rwanda, Uganda, Uzbekistan, Zambia and Zimbabwe. Shri Raj Modi, Honorable Deputy Minister of Industry & Commerce, Government of Zimbabwe expressed interest in NIC software products.
NICSI Team also held discussions on Productization & Data Analytics with Shri B. Vinaya, along with NIC Officers at the State Centre and District Informatics Officers/ Additional District Informatics Officers through video conferencing and briefed them about various activities undertaken in these areas, with an aim to identify software applications that can be taken up for productization, data analytics and implementation in PSUs as part of business propositions.